Dan Rattiner, foreword by Edward Albee. In the Hamptons: My Fifty Years with Farmers, Fishermen, Artists, Billionaires, and Celebrities. New York: Harmony Books, 2008. 368 Pp. Photographs. ISBN: 0307382958. $24.95.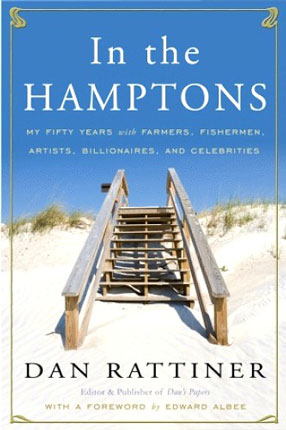 If there was an honorary mayor of the Hamptons it would have to be Dan Rattiner. Of course, some South Fork natives don't believe there is a place called "the Hamptons"; and those who do would not use the term "mayor" because they think "the Hamptons" is both a state-of-mind as well as a de facto nation. Nations don't have mayors—they have kings or people with other officious titles. Dan Rattiner (the founder, editor and publisher of Dan's Papers) is certainly Hamptons royalty and during the summer season he becomes the mayor, the king and any other role that needs filling, to support, invent and generally be everywhere at once in this little island at the south-eastern tip of New York's Long Island.
Rattiner is a raconteur with a wicked sense of humor and an eye for detail that is exhibited once a week in his glossy covered tabloid-sized newspaper that is found everywhere from Westhampton to Montauk, with special drop-offs in Manhattan. And it's free. The paper is very gossipy with long lists of celebrity sightings, restaurant reviews, many columnists, want ads, and both serious and fictitious articles. Rattiner is at his delicious best in the stories that veer away from reality. Over the years, his imagination has created stories about bridges to Connecticut (not completely far-fetched to some politicians), wild jungle beasts in a North Haven compound to facilitate in trimming down the deer population or a movement for the East End to secede from the United States. The charm of these fact-elastic jottings is that they have been taken as news instead of flights of fancy. Since the Hamptons is bigger than life, I saw no reason to disbelieve the North Haven escapade. I'd only been out here a month so you can imagine the reception I got, at the office, when I repeated what I thought was just another outrageous act by our summer people. But Dan's greatest magical illusion was his creation of a local subway. People are still looking for the stations. It is Rattiner's sleight-of-hand approach to his "journalism" that makes him such a very sophisticated snake-oil salesmen. Where did Dan Rattiner come from ? His book fills in some of the details. If he had never arrived out here, we would have had to have invented him.
In the Hamptons is a selection of articles, strung together in near chronology,which illuminate the life of Dan through character studies of locally – and nationally-prominent South Fork types. Mr. Rattiner introduces us to his start in publishing by taking the reader to Sayville's Suffolk County News where his first little weekly "Montauk Pioneer" was printed in 1960. Here Dan exhibits one of his most endearing attributes—pure unadulterated sentimentality. His love of small town life and lore is at its best when he describes the old pressroom, its workers and its works. Time and again we find ourselves pulled in to mundane corners of the tip of Long Island by Dan's complete and abiding interest in people and places. Though the author enjoys dropping names, he often sees such activity as ironic and not self-serving.
His "Babette Tweed" chapter is an excellent example of remembering the bumbling stumblings of young adulthood in the sixties. The Rattiner family had moved to Montauk so Dan's father could run the local White's Drug & Department Store. Soon after Dan had started his newspaper, his dad would still ask him to help in the store. One afternoon a very beautiful dark haired girl walked into the store with a very formally-dressed gentlemen carrying a walking stick. What ensues is a tale of old fashioned class-clashing and pure romantic comedic antics. Dan plays the lovesick hero in a midnight charade that only Cary Grant could pull-off on the screen. No happy ending here. But the story is richly textured with the upper-class New York Tweed family, the Montauk Association houses designed by Stanford White and even the fire that claimed Dick Cavett's abode. If there is any filler in a Rattiner ramble it is bound to be full of protein.
The highways and lanes of the Hamptons are lined with big and small personalities and Dan Rattiner has seen or invented most of them. John Steinbeck, Bobby Van, Billy Joel, Willem de Kooning, Richard Nixon, Robert David Lion Gardiner, George Plimpton and Jackson Pollock all play roles in In the Hamptons. But not always the roles you might expect; Rattiner doesn't like to fall into typecasting. The Pollock chapter is mostly about the older folks of Springs not wanting to talk about him. And the Nixon story is equally twisted: Rattiner was asked to interview him at Gurney's Inn, but decided not to.
Is it a beach book? Sure, but it does do a great job of humanizing the Hamptons. It crowns kings and fishermen, alike, and makes celebrities out of just about anyone Dan ever talked too. He enjoys telling us what the South Fork was like in the third quarter of the twentieth century. He does miss those times and he is very romantic about the simpler days gone by. But Dan is also full of himself (in a loveable way) and that is really what makes his book so much fun to read. You see, Dan Rattiner is really the official host and ticket taker at the toll bridge that separates the South Fork from Long Island proper. This is the lift bridge that opens at 7:30 AM and closes at 9:30 PM. It keeps the Hamptons so much more pleasant at night. Dan laid the corner stone just last week.
Richard Barons
Director, East Hampton Historical Society