At first glance, a banner of Adolf Hitler would seem out of place near a banner of George Washington and the American flag. Yet, on the night of February 20, 1939 at Madison Square Garden members of the German-American Bund saw no contradiction between a founding father of the American democracy and the fascist European leader. The previous summers, youth and adults from around New York State arrived at Penn Station to take the 8:00 a.m. "Camp Siegfried Special" to Yaphank, Long Island. Brochures of Camp Siegfried, operated by the Bund, promised German-American patriots, "You will meet people who think like you do."[1] Meanwhile locals from Yaphank, Jamesport, Aquebogue, and Riverhead visited the camp to drink beer, join in the festive atmosphere walking or driving down "Hitler Street" to salute American and Nazi flags.[2] This article will explain why these seemingly opposing icons were celebrated on the eve of the Second World War, and further explore the role local experience plays in understanding global issues. As the images of Hitler and Washington show, support for Nazi Germany in the United States was a unique blend of German and American ideology rather than just a foreign import.

Figure 1: Long Island Railroad greeted by Bundists at Yaphank, courtesy of Marvin Miller's Wunderlich's Salute
he 1930's proved to be a fertile time for demagogues and radical movements to appear in the United States, whether on the left or the right of the political spectrum. Huey Long combined populism with quasi-dictatorial rule in Louisiana while Father Charles E. Coughlin broadcast a popular national radio program blending religion, economics and politics, lacing it with ever-increasing amounts of anti-Semitism. With mainstream strands of anti-Semitism, popularity of the Ku Klux Klan and worsening economic conditions in the Great Depression, German-American ultra-nationalism provided a voice for thousands in America. This was another side to the "melting pot" theory by demonstrating how two different traditions converged in the United States with immigrant families offering new ideas to their local communities. These ideas also united other groups, such as German fascists in Long Island holding rallies with Italian fascists under the American flag. Indeed, the United States did not escape public displays supporting fascism and the terrain served as grounds for different groups to "melt" their ideology together.
Local Nationalism
While there have been many studies of cross-border radical right politics there is a need to revisit this subject to better understand the transnational dimension of Nazism. Jeffrey Kaplan and Leonard Weinberg argue in The Emergence of a Euro-American Radical Right that in the postwar era a network of radical right groups developed across the Atlantic.[3] Yet, the work fails to examine the unique blending of radical right ideas in the earlier period with the role local landscape served in the merging of ideologies. The local activities of fascist-democratic events demonstrate the appeal of fascism in the United States, and this expression of German fascism blended with American politics to create a unique, if not confused, form of fascism. In fact, as the Bund explained in a telegram by leader Fritz Kuhn from Buffalo, New York to Nazi Germany in 1936: "The representatives of the German-American Volksbund . . . see in the overpowering decision of the German Volk an expression of the unity between Government and Volk in which we recognize the most sublime form of true democracy."[4] What may seem as a contradiction for the reader decades after the Second World War was not a contradiction in the minds of some German-Americans before the war.
There has been little interest in examining Nazis and Nazi sympathizers in the United States since the war. Much of the research about the topic was done by the United States government during and after the Second World War. Publications, such as National Socialism, produced by the United States Department of State explored the Nazi's foreign organizations.[5] O. John Rogge's The Official German Report, produced for the Department of Justice in 1946, contains a general history of the Bund in relation to other extremists.[6] In addition, the House of Representatives also held many hearings and investigations into suspected foreign agents and saboteurs, including the Bund. While such research is important, many of these researchers failed to examine the Bund's local interests and appeal. Marvin Miller took this approach in Wunderlich's Salute by looking at Bundist youth activity on Long Island.[7] Miller's narrative explained the formation, activity of the youth, and key local trials. Even so, the work did not fully account for the organization's local, national, and global interests. It is too simple to say the Bundists were Nazi supporters and not patriotic Americans, but more to the point, this actually contradicts the actions and feelings of many members. While some were ardent Nazis, many were patriotic German-Americans born in the U.S. whose families were in the country for decades. What needs to be understood about such groups is that, for the rank-and-file, they were patriotic for both Germany and the United States. The Bund's activity on Long Island was a way to mesh patriotism of the two countries locally even if the ideology conflicted.
There are many elements of Nazism, which cover a range of ideological dimensions. There is the national context during Nazi Germany that sought to unite the "volk." Then there is a global dimension of Nazism that transcends borders developing an empire. Additionally, there is a local dimension that plays out in neighborhoods and everyday life. To better understand the interrelated nature of local, national, and global connections, this article examines the German-American Bund's local outreach on Long Island, which served as an important outpost on a two-hour train ride from its New York City headquarters.
The local dimension of fascism in a democratic society is useful in understanding how local issues manifest in translocal politics. Similar to Wolf Schäfer's work exploring how "global, national, and local history are intertwined" in Albert Einstein's 1939 letter to President Roosevelt, this article builds from that work by showing how some Americans tried to mesh fascism, in particular its ultra-nationalism, to democratic principles.[8] This work expands the local approach by examining the seemingly contradictory nature of the Bundist ideology. While the Bund's efforts were a failure, its attempt to combine Nazi and democratic ideals demonstrates how complex Nazism was and how it must be examined simultaneously as a three-tiered model with local, national, and global analyses.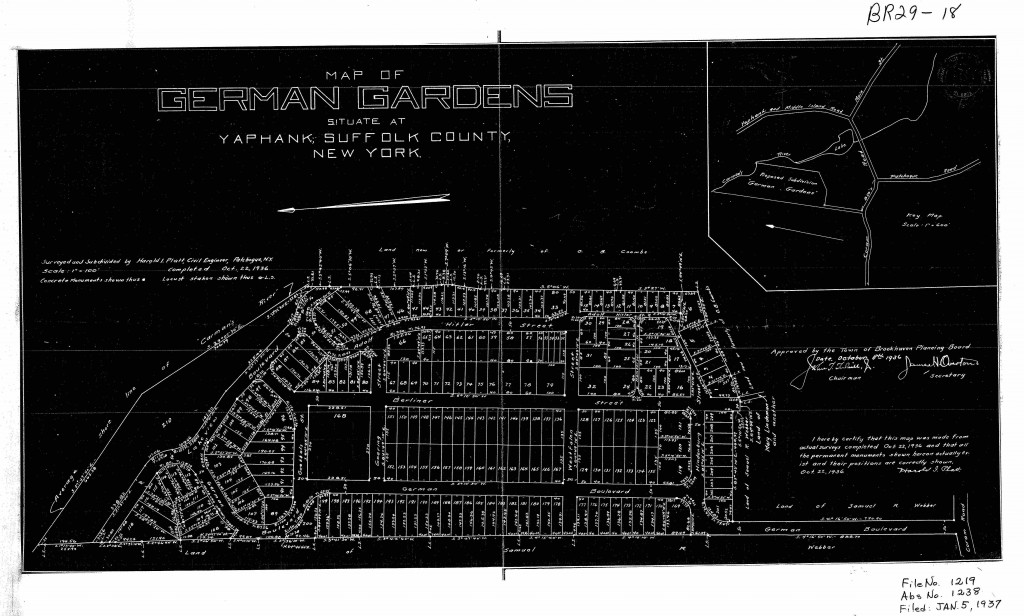 Figure 2: Street map of Yaphank, Long Island, courtesy of Ryan Shaffer.
Discovering how the local Bund blended fascism and democracy has been made difficult by local hesitations to revisit a negative chapter of the past. This is further compounded when people seek to hide history. One notable example was in 1995 when Suffolk legislators passed a resolution, sponsored by Herb Davis (R-Yaphank), "for the removal of pro-Nazi references on the subdivision records" from original documents.[9] This proposed rewriting of history on the original records failed since it was not approved by state government. Despite these obstacles, this article sheds light on an often neglected part of local and national history in order to paint a more accurate view of history prior to the war.
Background
The German-American Bund's history has been covered in detail in a variety of publications and does not need to be extensively covered here.[10] In brief, Fritz Gissibl, a Nazi Party member, started the Free Society of Teutonia after moving to Chicago, Illinois in 1924. Two years later, the name was changed to the National Socialistic Society of Teutonia, and according to federal documents, "at least half of the members in 1926 were affiliated and associated with the Adolf Hitler Party [the Nazi Party]."[11] The group spread throughout the Midwest becoming the "Friends of the Hitler Movement" in 1932 and following Hitler's chancellorship in 1933, another name change made the group "Friends of the New Germany," or FONG.[12] Gissibl eventually returned to Germany and served as the Director of Propaganda Ministry for Southern Germany.[13] In 1936, the organization became the German-American Bund lasting until 1941 when leaders were jailed for crimes or detained on the basis of their ancestry or associations.
Fritz Julius Kuhn (1896-1951), the Bund's leader, was born in Germany and moved to the U.S. via Mexico in 1927 becoming a naturalized American citizen in 1934. Initially, Kuhn worked as a Ford Motor Company chemist until he left his job to be the Bund leader full time, serving as editor of its weekly Weckruf und Beobachter ("Wakening call and Observer") paper in Brooklyn.[14] In late 1939, Kuhn was sentenced in federal court to two-and-a half to five years for grand larceny and forgery after raising money for attorney fees in Nassau County, but used the money for his personal use, including his mistress.[15] The trial, prosecuted by Thomas E. Dewey, embarrassed Kuhn and the Bund, whose members were already being investigated by several government organizations.[16] Kuhn as well as several members had their citizenship revoked and were deported to Germany where they eventually passed away.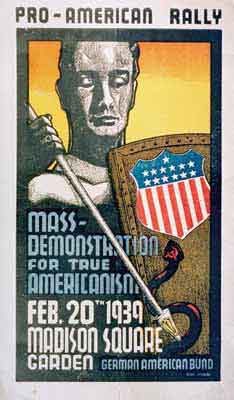 Figure 3: Bund poster for pro-American rally, credit to United States Holocaust Memorial Archives.
Transnational Nationalism
While the Bund was originally a Germanic import its American supporters soon blended German and American patriotism. In 1937, the Bund ratified its Constitution in New York declaring that its members "uphold and defend the Constitution and laws of the United States" and "remain worthy of our Germanic blood, our German motherland, our German brothers and sisters."[17] At the same time, the Constitution also explained "the swastika, our fighting symbol, had already become the sign of recognition of Aryan nationalism" in many other countries.[18] In addition, "the greeting of the outstretched right arm and hand, which means the same thing, is used by all these movements."[19] The organization had a racist foundation to unite "similar" people, including Germans and Americans. Kuhn told the Committee of Un-American Activities that the main requirement to join was one must be "Aryan," which he explained as "a member of the white race."[20] The membership numbers, as Kuhn testified under oath, was 20,000 Aryan members and maybe "4 or 5 times 20,000" in sympathizers.[21] The transnational ideology united people not just in major cities, but towns in Arkansas, California, Connecticut, Michigan, Missouri, Mississippi, New Jersey, Oregon, Rhode Island, and Wisconsin.
One of the ways the Bund was successful on a small scale was its appeal to the patriotism of German-Americans in New York. On February 22, 1940, the Bund hosted the "George Washington Birthday Exercises" to celebrate Washington's birth and German culture in New York City. After the Star Spangled Banner played, the Bund's leaders spoke about the group's purpose followed by the Bund's song "For Liberty and Truth We Fight." The program offered the following principles: "to do honor to and defend the Constitution, flag, and institutions of the United States."[22] This was subsequently followed by a promise to "combat all anti-Germanism [sic] as reflected in the libelous slanderous attacks in the political, religious, cultural, economic, and civic fields" as well as "oppose by all lawful means all international or internal subversive phenomena, tending to undermine or overthrow the National Republic of these United States or the Christian Civilization upon which it is builded [sic]."[23] This echoed the previous year's speeches on February 20, 1939 in an address at Madison Square Garden. With a banner of Hitler and Washington hung on the same stage, J. Wheeler-Hill, Bund National Secretary, told the audience and reporters, "Be united! Be Americans . . . In one word, be a nation, be Americans, and be true to yourselves."[24] G.W. Kunze told the audience that to prevent further decay of the country, the focus should "start with our churches" because "everlasting tolerance and liberalism in the face of the absolutely intolerant forces of Jewish Bolshevism means giving up our Christian institutions and our nation."[25] The uniquely local focus of the Bund centered on creating a community that developed a German-American spirit. This was seen in the case of Long Island, where networks of committed people joined forces, to support this attempted blend of fascism and democracy.
This neighborhood program echoed a longtime strategy of the Bund. When Kuhn became the leader of the Bund in 1936, he quickly focused on local interests. Sending out Bund commands from its then-headquarters in Detroit, Michigan (where Kuhn worked for Ford), he told members: "In national as in local politics our considerations of the political situation are based on two viewpoints. The purely American standpoint, as American citizens, and the standpoint as an organization bound to the (German) folk which (organization) is to engage in political activity favorable to the German fatherland."[26] In order to create a strong local community of like-minded people, the Bund set out to bridge German tradition with American culture by targeting youth. The group wanted to teach the next generation American as well as German culture. In the Bund's 1937 issue of Fighting Germanness ("Kämpfendes Deutschtum"), the cover featured Kuhn meeting Adolf Hitler with a swastika and American flag. The volume started with an excerpt from Colin Ross' Our America ("Unser Amerika"), which claims that those with German blood will lead the United States into a new era.[27] The issue contained collections of poetry, songs, and articles about local activity around the United States. The articles discussed celebrations of German-American history, Bundists on the streets of New York City and highlighted youth activity at Camp Siegfried in Yaphank, Long Island.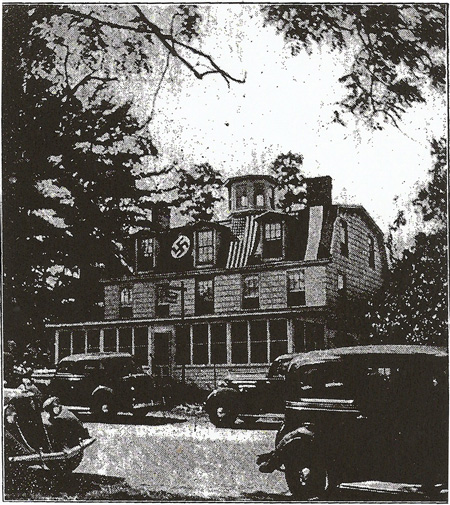 Figure 4: The Clubhouse at Camp Siegfried, credit to "Kämpfendes Deutschtum."
Camp Siegfried
Camp Siegfried was owned and operated by the German Settlement League whose president, Ernst Mueller, was a leading Bundist. With the growth of the Bund, the camp was used for Bundist youth to learn about camping, hunting, shooting, and even eugenics. For the adults and locals, it was a place where politics and local events were discussed at the camp's bar. Perhaps, most importantly the camp served for the celebration and dissemination of ideology. Youth were taught philosophy from German language textbooks and taken on trips to Germany, including the 1936 Olympics where Kuhn met Hitler. Sheriff Denton Quick's investigation of Bund activities at Camp Nordland in New Jersey concluded that the youths' "books and even their teachers are furnished by Adolf Hitler."[28] While many pamphlets, newspapers, and magazines came from Bund headquarters in Brooklyn, "according to witnesses questioned by Prosecutor Charles Downing, Sussex County, N.J., [uniforms] were 'smuggled into this country and brought to the camp from Germany by exchange students'."[29] According to the federal government, "members of this youth division attended summer camps where they received doctrinal and physical training closely following the Nazi method in Germany."[30] Women, on the other hand, "were associated in the Frauenschaft division, and devoted their efforts to the welfare of the Bund and its philosophy."[31] The camp served to instruct men, women and youth in the ways of the "fatherland" and teach practical as well as political knowledge to its members.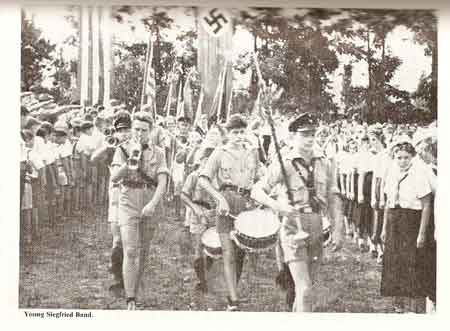 Figure 5: Bund youth at Camp Siegfried, courtesy of Miller
The Bundists' interests meshed with Long Island life in expected and unexpected ways. Outdoor training was important to the Bund, which included exercising their Second Amendment Rights with gun training. The Bund organized clubs and affiliated with the National Rifle Association (NRA). On the floor of the House of Representatives, Congressman Samuel Dickstein (D-NY) said, in part: "the National Rifle Association of Washington D.C., is being used and abused by the members of the German-American Bund. This rifle association, which had at one time sent representatives to the Bund in 1938 to solicit members was recently exposed in the press when it was found out that this association had sold rifles to the members of the Christian Front, of which 14 members are now on trial."[32] The NRA, as well as several NRA-friendly Congressmen, immediately disputed the validity of those claims. In a letter to Marvin Miller, who researched the Bund, the NRA wrote several decades later that it was true that Bund rifle clubs were "affiliated with the National Rifle Association" and received "assistance from the Office of the Director of Civilian Marksmanship in the form of rifles and ammunition."[33] The NRA denied giving equipment or supplies to the Bund and "cancelled" the Bund-associated group's affiliations "as soon as the background of this club or clubs was discovered."[34] It did not take much for the Bundists to intermingle into society, but it seems that only when the U.S. was on the brink of war did politicians and organizations take notice of the group's ideology.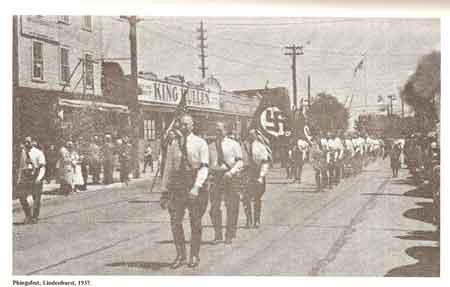 Figure 6: The Bund marching in Lindenhurst, courtesy of Miller
The organization blended into American life in several other ways. The Bund sold alcohol at its camps, which in turn provided good profit. In fact, according to the Federal Bureau of Investigation (FBI), one witness "had seen nothing there that appeared at all impressive to him. They did appear to consume great quantities of beer and do a lot of marching and wearing of uniforms."[35] Unlike consuming beer, marching did not simply take place within the confines of the property, but marches and rallies were organized throughout Long Island in places such as Lindenhurst and Yaphank. Local people interviewed by the FBI had mixed feelings about the Bundist's conduct.[36] Neighbors complained of "men and women wear[ing] shorts and abbreviated bathing suits on highways, trespassing on private property, stealing flowers, and growing produce."[37] In contrast, the original owners of the property "had no particular trouble with the campers [and] sa[id] that most of the talk against campers originates with the newspapers."[38] Others, notably Gustave Neuss, Yaphank's Justice of the Peace, condemned the group's "Nazism" and rumored ties to Nazi intelligence services.[39] This led to a public battle of words with the Bund pledging their support to Republican candidates.[40] The group, though sometimes criticized, meshed with locals joining a cross section of gun enthusiasts, beer drinkers, campers, and political activists.
The Bund was targeted by some in local government for its views and support for Hitler. One of the most notable cases was New York v. Mueller, et al., which took place in the summer of 1938 (shortly after the German-Austrian Anschluss) in Riverhead against six Bund leaders. The state, which had high-level meetings with FBI Director J. Edgar Hoover, Attorney General Cummings, and Congressman Dickstein, argued that the Bund had a secret oath that pledged loyalty to the Nazis and Hitler. The state's witness said he was given the oath, but under cross-examination was unable to provide specifics about the administrator of the oath, his position or name any witnesses to his taking of the oath.
To refute those claims, the Bund's defense called Martin Wunderlich, a shipping clerk from New York City, who denied taking such an oath. He told the court he as well as everyone else at Camp Siegfried pledged their allegiance to the American flag.[41] Wunderlich said, "I salute the American flag as a member and proud member of the White Race (witness stands up and raises right arm)." Then the prosecution asked, "That is the American salute?" To which Wunderlich replied, "it will be." Upstate New York news outlets, like the Schenectady Gazette, focused on Wunderlich's salute, reporting he "predicted that the Nazi salute of Hitler's Germany would replace the American form of saluting the flag" and "said he believed there would be a national socialist party formed in the United States on Hitler lines."[42] Other defense witnesses spoke proudly about their anti-Semitism, with one saying the American flag was synonymous with Christian principles that were at risk by "Jewish Communism."[43] Yet, according to a court stenographer and a family member of a juror, it was Wunderlich's actions that doomed the Bund's case. The jury found the six leaders of the Bund guilty in two minutes.[44] The conviction was thrown out on appeal, which argued the witness who claimed to take the oath could not have taken it the day he claimed as court records showed he was elsewhere. The appellate judge dismissed the case saying if the oath was required, "you can't convict them because they are strange people."[45]

Figure 7: Camp Siegfried, courtesy of Miller.
After the March 1938 Nazi invasion of Czechoslovakia, the U.S. inched closer to war with Nazi Germany. The U.S. government began taking a closer look at possible domestic Nazi activity. In a letter from the Federal Bureau of Investigation's New York office on May 23, 1938, it specifically mentioned "the continued existence of Camp Siegfried at Yaphank, Long Island" owned by the German-American Settlement League Inc., which "was created to take over the property and assumed the mortgages and paid off by the man in whose name the property had originally been carried."[46] The letter also detailed the presence of 150 to 300 children at the camp who "used to wear a uniform like that of the Hitler Youth in Germany" even though one Bundist was quoted in the letter saying the children "would be too young to understand about National Socialism and similar subjects."[47] Rather, the children were "told to be good citizens of this country but never forget their German blood."[48] The local, state and federal government were focusing on the group for its ties to Nazi Germany, and looked at the group's Hitler banners rather than its George Washington banners.
By the time the United States and Nazi Germany were formally at war, the Bund issued a newsletter to its members that "military service is not justified, in as far it concerns Bund members and American Germans, for in the Selective Service Law the citizenship rights of Bund members and the defenders of Germandom [sic] are unconstitutionally served!"[49] Soon after, the Bund members who refused to fight or failed to comply with the Selective Service were targeted. Many, such as Bruno Clemens Knupfer, were arrested for "engaging in a conspiracy to violate the Selective Service Act."[50] Knupfer was a native born German who received U.S. citizenship in 1930 and lived in Brooklyn, New York. He was eventually held on Ellis Island where he was brought in front of a Hearing Board.[51] Like many Americans of German and Japanese descent, the Board had the power to have him "removed and repatriated to the country of his nationality as soon as arrangements for his transportation could be made."[52] In Knupfer's petition to the court, he wrote, "I registered for the draft and aware of my duty as a citizen at all times was willing to bear arms for and defend the United States." He further explained, "I believed that I am being detained solely because at one time I had opinions and beliefs with which others disagree." Feeling defeated, he "offered to surrender . . . citizenship," but "denied the allegations" believing "cooperation would be considered and help . . . later."[53] Knufper's fate was the same as many others who associated with the Bund and similar groups, and his citizenship was revoked.[54] For their association with an organization that praised Hitler as well as honoring American patriots, they lost their citizenship.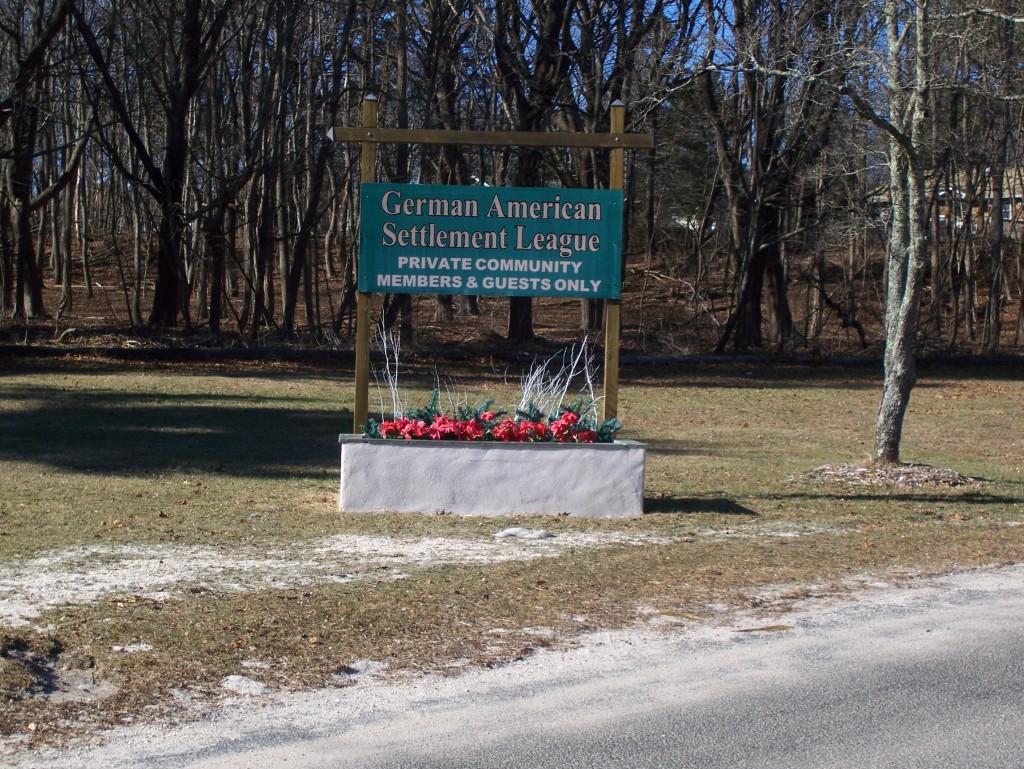 Figure 8: The entrance to Siegfried Park in Yaphank from 2010, courtesy of Ryan Shaffer.
Conclusion
For many German-American Bund members and perhaps the public in general, remembering the swastika flying proudly next to the American flag was too much. Long Island residents as well as the country as a whole chose to remember the build up to the Second World War as a clear division of good verses evil. The Camp Siegfried property became Siegfried Park after the Bund lost control of the property to the German Settlement League and the roads (such as Hitler Street) changed names. As for the people, the Bundists who could prove their loyalty to the United States moved on with their lives. A small number of members who were recruited by Nazis to sabotage military-related targets on Long Island remained in prison.[55] On the other hand, the Bund members and leaders, like Kuhn, who were deported to Germany, said they "would go back to the United States in a minute if I could."[56] It is difficult to delve into the mind of the average member to know where their loyalty was. Undoubtedly, some Bund members were unapologetic supporters of Nazi Germany and put that support above the country they lived in.
For others, such as Rudolf Franz Funk of Hempstead, New York, the "Bund was an American organization" and could not say that the youth organization was "more German than American."[57] Funk attended Camp Siegfried for four summers and wanted the United States to win the war, Germany to lose, but still refused to fight in the military. In a split vote during his repatriation hearing on Ellis Island, two panelists voted in favor of repatriation citing "adherence to National Socialism" and one dissented. The dissenter said, "I think he has the potentialities of a good citizen."[58] This split decision demonstrated the trouble with the Bund in the minds of many people.
The Bund was not just a Nazi or German organization, but it was also an American organization with local roots. While it emphasized German-American culture, the Bund was racist and fascist to its core. However, racism and radical politics were not unique to the group since Long Island had its share of both those, including widespread support for the Ku Klux Klan in the 1920s. The most troubling aspect of the Bund was its blending into local life for two decades until the start of war. It took deaths and a world war before people started looking at what was happening in their own backyard. Even still, many locals blamed "foreign agents" for the group's existence and failed to examine the fertile ground and propaganda that allowed Americans to be part of such an organization.
Appendix
The following are three letters concerning Long Island Bund activity and local opposition, as mentioned in this article. The first two are undated letters from German-American Bund representatives to Justice of the Peace Gustave Neuss in Yaphank. The third is a letter from Neuss to Congressman Samuel Dickstein about the Bund. They appear as originally written complete with the original spelling/grammatical errors, spacing, and bolding. The first one lacks a signature.
Letter 1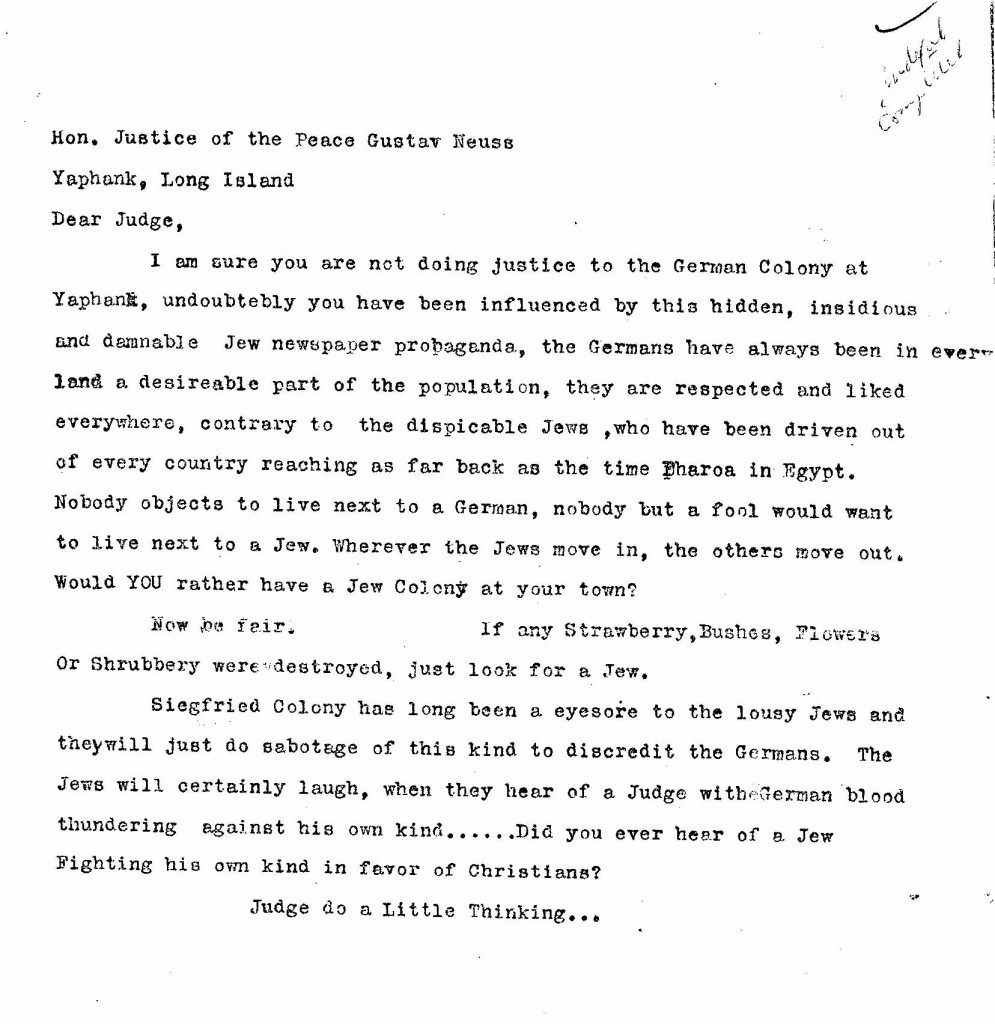 Hon. Justice of the Peace Gustav Neuss
Dear Judge,
I am sure you are not doing justice to the German Colony at Yaphank, undoubtebly you have been influenced by this hidden, insidious and damnable Jew newspaper propaganda, the Germans have always been in every land a desireable part of the population, they are respected and liked everywhere, contrary to the despicable Jews , who have been driven out of every country reaching as far back as the tome Pharoa in Egypt. Nobody objects to live next to a German, nobody but a fool would want to live next to a Jew. Wherver the Jews move in, the others move out. Would YOU rather have a Jew Colony at your town?
Now be fair. If any Strawberry, Bushes, Flowers Or Shrubbery were destroyed, just look for a Jew.
Siegfried Colony has long been a eyesore to the lousy Jews and theywill just do sabotage of this kind to discredit the Germans. The Jews will certainly laugh, when they hear of a Judge witheGerman blood thundering against his own kind. . . . . . Did you ever hear of a Jew Fighting his own kind in favor of Christians?
Judge do a Little Thinking . . .
Letter 2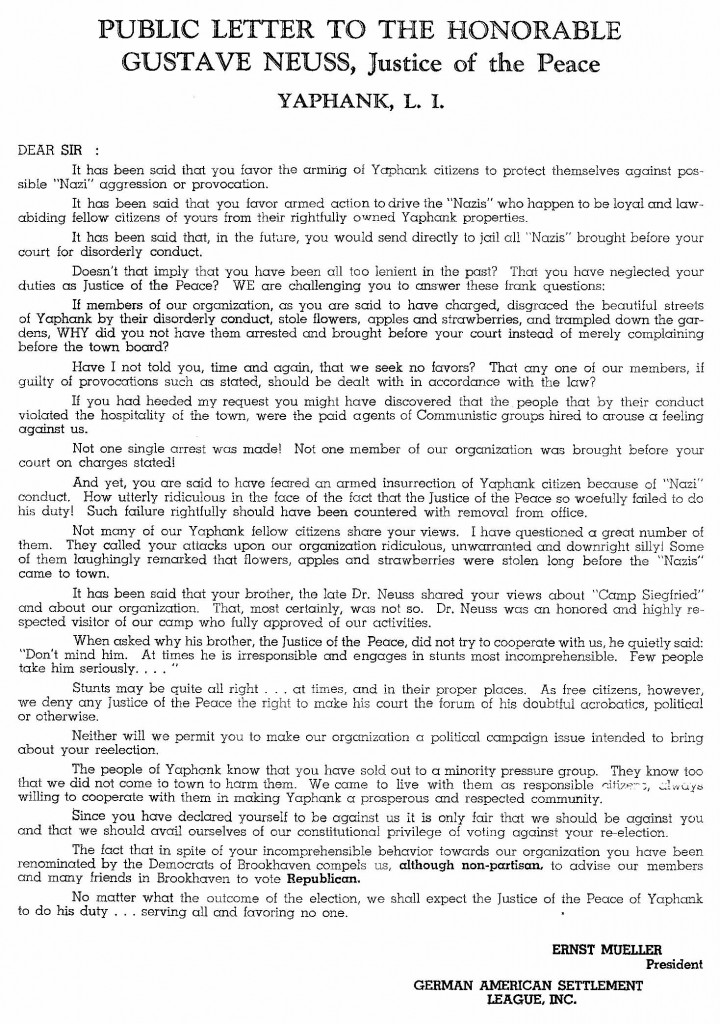 PUBLIC LETTER TO THE HONORABLE
GUSTAVE NEUSS, Justice of the Peace
YAPHANK, L.I.
DEAR SIR :
It has been said that you favor the arming of Yaphank citizens to protect themselves against possible "Nazi" aggression of provocation.
It has been said that you favor armed action to drive the "Nazis" who happen to be loyal law-abiding fellow citizens of yours from their rightfully owned Yaphank properties.
It has been said that, in the future, you would directly to jail all "Nazis" brought before your court for disorderly conduct.
Doesn't that imply that you have been all too lenient in the past? That you have neglected your duties as Justice of the Peace? WE are challenging you to answer these frank questions:
If members of our organization, as you are said to have charged, disgraced the beautiful streets of Yaphank by their disorderly conduct, stole flowers, apples and strawberries, and trampled down the gardens, WHY did you not have them arrested and brought before your court instead of merely complaining before the town board?
Have I not told you, time and again, that we seek no favors? That any one of our members, if guilty of provocations such as stated, should be dealt with in accordance of the law?
If you had heeded my request you might have discovered that the people that by their conduct violated the hospitality of the town, were the paid agents of Communistic groups hired to arouse a feeling against us.
Not a single arrest was made! Not one member of our organization was brought before your court on charges stated!
And yet, you are said to have feared an armed insurrection of Yaphank citizen because of "Nazi" conduct. How utterly ridiculous in the face of fact that the Justice of the Peace so woefully failed to do his duty! Such failure rightfully should have been countered with removal from office.
Not many Yaphank fellow citizens share your views. I have questioned a great number of them. They called your attacks upon our organization ridiculous, unwarranted and downright silly! Some of them laughingly remarked that flowers, apples, and strawberries were stolen long before the "Nazis" came to town.
It has been said that your brother, the late Dr. Neuss shared your views about "Camp Siegfried" and about our organization. That, most certainly, was not so. Dr. Neuss was an honored and highly respected visitor of our camp who fully approved of our activities.
When asked why his brother, the Justice of the Peace, id not try to cooperate with us, he quietly said: "Don't mind him. At times he is irresponsible and engages in stunts most incomprehensible. Few people take him seriously . . ."
Stunts may be quite all right . . . at times, and in their proper places. As free citizens, however, we deny any Justice of the Peace the right to make his court the forum of doubtful acrobatics, political or otherwise.
Neither will we permit you to make our organization a political campaign issue intended to bring about your reelection.
The people of Yaphank know that you have sold out to a minority pressure group. They know too that we did not come to town to harm them. We came to live with them as responsible citizens, always willing to cooperate with them in making Yaphank a prosperous and respected community.
Since you have declared yourself to be against us it is only fair that we should be against you and that we should avail ourselves the constitutional privilege of voting against your re-election.
The fact that in spite of your incomprehensible behavior towards our organization you have been renominated by the Democrats of Brookhaven compels us, although non-partisan, to advise our members and many friends in Brookhaven to vote Republican.
No matter what the outcome of the election, we shall expect the Justice of the Peace of Yaphank to do his duty . . . serving all and favoring no one.
ERNST MUELLER
President
GERMAN AMERICAN SETTLEMENT
LEAGUE, INC.
Letter 3
Telephone Bellport 8-W
Office and Residence
Main Street Yaphank, L.I.
GUSTAVE NEUSS
Justice of the Peace
TOWN OF BROOKHAVEN
March 5, 1939
Hon Samuel Dickstein
Washington, D.C.
Dear Sir:
I am enclosing a small photograph which, with the information that goes with it will, I hope, help get evidence that will show conclusively that the Hitler Government is absolutely back of the German American Bund in this country.
To identify myself to you, it was I who four years ago denounced the Bund to the Brookhaven Town Board for the un-American activities at Camp Siegfried at Yaphank. As a result of my remarks about them, everyone of the Metropolitan papers the next day published my statement at full length and in the next week it was carried by every paper in the country. Even the Jewish papers printed it in Jewish print. Since that time I have continued to fight them out here and was instrumental in having them refused a beer and wine license so that the Camp is now closed.
Now about the photo. A German who has lived in this neighborhood came to me as he had heard I would be the best person to go to from A Jewish merchant in Patchogue. The picture was taken in Weimar, Thüringen, and shows Hitler reviewing a boys' parade. The picture was taken by a relative of my informant who had the camera concealed under his coat. It was brought to this country by an employee on one of the German steamers wrapped in the newspaper which is enclosed. The picture of Hitler is not important, but the man with the soft hat and overcoat is the one. My informant tells me that this man is the under cover man for the Bund in thus country and that he in turn passes them along to Kuhn and the other leaders. At the time the picture was taken he was stop-at the Kaiserun Augusta Hotel in Weimar, and was registered as Kurt Reckenbach, in Milwaukee, Wisconsin.
This was some time in the Fall of 1938. Now if you feel that this is worth investigating I will be glad to have you keep the picture. If not, will you return it to me? I had considered sending it to the Dies Committee but have no confidence in them as they to be luke warm as regards the Nazis. I have confidence in the man who came to me; his father, brother and sister are in Germany and his is violently anti Nazi. The question came up about the name being assumed but that does not seem possible as the man had nothing to fear and his standing so close to Hitler is proof that he was well known.
I hope this material can be used and will be productive of results. My informant advises me that he gets information at times and will bring it to me as he gets it. If he does and you are interested I will be glad to send it to you.
Yours very truly,
[Signature of Gustave Neuss]
---
Notes
[1] David Behrens, "Long Island: Our Story / On Streets Paved with Acrimony,"Newsday, 10 May 1998.
[2] Ibid.
[3] Jeffrey Kaplan and Leonard Weinberg, The Emergence of a Euro-American Radical Right (New Brunswick: Rutgers University Press, 1998).
[4] United States v. Carl Bregler, et. al., #837, p. 843.
[5] Raymond Murphy, Francis Stevens, Howard Trivers, and Joseph Roland, National Socialism: Basic Principles, Their Application by the Nazi Party's Foreign Organization, and the Use of Germans Abroad for Nazi Aims (Washington: Government Printing Office, 1943).
[6] O. John Rogge, The Official German Report: Nazi Penetration, 1924-1942 and Pan Arabism, 1939-Today (New York: Thomas Yoseloff, 1961).
[7] Marvin Miller, Wunderlich's Salute (Smithtown: Malamud-Rose Publishers, 1983).
[8] Wolf Schäfer, "Long Island: Global, National, and Local," Long Island History Journal 21, No. 1, Fall 2009 (accessed 1 February 2010).
[9] Behrens.
[10] Susan Canedy, America's Nazis: A Democratic Dilemma: A History of the German American Bund (Menlo Park: Markgraf Publications Group, 1990); Sander A Diamond, The Nazi Movement in the United States, 1924-1941 (Ithaca: Cornell University Press, 1974); Warren Grover, Nazis in Newark (New Brunswick: Transaction Publishers, 2003); Leland V Bell, The Failure of Nazism in America: The German American Bund, 1936-1941 (New York: Academy of Political Science, 1970); Cornelia Wilhelm, Bewegung oder Verein?: Nationalsozialistische Volkstumspolitik in den USA (Stuttgart : F. Steiner, 1998); Lucas Hanft, "Nazis on Long Island," Long Island Historical Journal 11, no. 2 (1999): 223-230.
[11] United States v. Carl Bregler, et. al., #837, p. 838.
[12] Ibid.
[13] Ibid.
[14] "Boro Plays Big Role in Activities of Bund: Brooklyn Local Most Important and Lucrative of Five Units in Kings and Queens Spreading Nazi Doctrines," Brooklyn Daily Eagle, 8 April 1938.
[15] "Fritz Kuhn, Bund Leader, Sentenced to 2 1/2 Year Term," Berkeley Daily Gazette, 29 November 1939.
[16] According to The New York Times, New York City Mayor Fiorello La Guardia "asked" Dewey to prosecute members of the Bund and sent him a forty-two page report with more than forty violations of tax law. "Bund Tax Evasion Charged; Mayor Asks Dewey to Act," New York Times, 18 May 1939.
[17] Constitution of the German American Bund—Amerikadeutscher Volksbund—New York, 1937 in "Committee of Un-American Activities House of Representatives" from the Seventy-Seventh Congress, 1940 H. Res 282: 3713.
[18] Ibid., 3722.
[19] Ibid., 3722.
[20] Ibid., 3724.
[21] Ibid., 3734.
[22] George Washington Birthday Exercises (Brooklyn: German American Bund, 1940), p. 1.
[23] Ibid.
[24] "Six Address on the Aims and Purposes of the German American Bund" (New York: AY Publishing Corporation, 1939), 1.
[25] Ibid., 8.
[26] "The German American Bund for Gov. Alf. Landon, Kansas as Candidate for the Presidency of the United States," Bund Command #2 (Detroit: Bund Headquarters, 29 October 1936).
[27] "Unser Amerika," Kämpfendes Deutschtum: Jahrbuch des Amerikadeutschen Volksbundes für das Jahr 1937, p. 1.
[28] Syd Boehm and David Sentner, "Books, Teachers Furnished by Adolf Hitler: Children Taught Germans Will Rule World," New York Journal and American, 27 September 1940.
[29] Ibid.
[30] United States v. Carl Bregler, et. al., #837, p. 840.
[31] Ibid.
[32] "Congressional Record – House," May 21, 1940, p. 10783.
[33] C. Richards Rogers, "Letter to Marvin Miller," National Rifle Association of America, 7 December 1976.
[34] Ibid.
[35] "Nazi Activities in the United States," Federal Bureau of Investigation (New York Office) May 23, 1938, unpaginated.
[36] Ibid.
[37] Ibid.
[38] Ibid.
[39] Letter from Gustave Neuss, Justice of the Peace, March 5, 1939; See appendix.
[40] Ernst Mueller, "Public Letter to the Honorable Gustave Neuss, Justice of the Peace, Yaphank, L.I." Undated. Circa 1939. Miller, 77, 184.
[41] Miller, 61.
[42] "German League Leader Denies Making Threat," Schenectady Gazette, 8 July 1938, p. 12.
[43] Ibid., 71.
[44] Ibid., 73.
[45] Ibid., 82.
[46] "Nazi Activities in the United States," Federal Bureau of Investigation (New York Office) 23 May 1938, p. 1.
[47] Ibid., p. 7, 8.
[48] Ibid., p. 8.
[49] Bund Command No. 37 cited in United States v. Keegan (cited as 71 F. Supp. 623), 639.
[50] United States v. Bruno Clemens Knupfer, #3121, p. 2.
[51] Ibid., 3.
[52] Ibid., 3; "Prince Hohenlohe Detained; Son of Princess Stefanie Is Taken to Ellis Island by FBI Pending Hearing," New York Times, 19 February 1942.
[53] United States v. Bruno Clemens Knupfer, #3121, p. 2; Miller, p. 271.
[54] "Denies Citizenship to Former Bundists," Milwaukee Journal, 4 August 1945.
[55] "How Spies Were Recruited; German-American Bund Made Them Nazi Sympathizers," New York Times, 28 June 1942; "Detailed Account of the Nazi Spy Aides' Activities Is Given by the FBI," New York Times, 14 July 1942.
[56] "Fritz Kuhn Set Free; He'd Like To Return To U.S.," Chicago Daily Tribune, 26 April 1946.
[57] "Rudolf Franz Funk: Alien Enemy Repatriation Hearing Board, Ellis Island," 31 October 1945.
[58] Ibid.