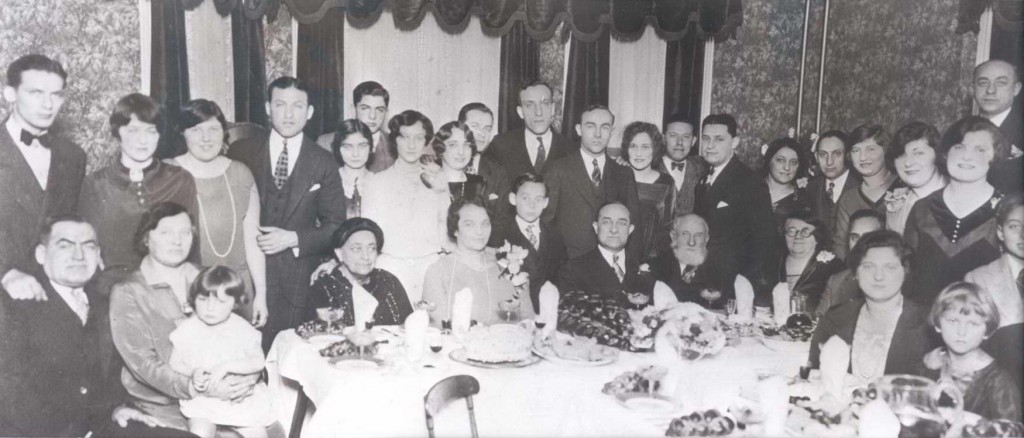 Figure 1: Twenty-fifth wedding anniversary celebration, Schackman (of Riverhead) and Barish (of Freeport), c. 1927. Both were Russian Jewish immigrant families. The Long Island Museum Collection, Gift of Elaine Schackman Kimpel.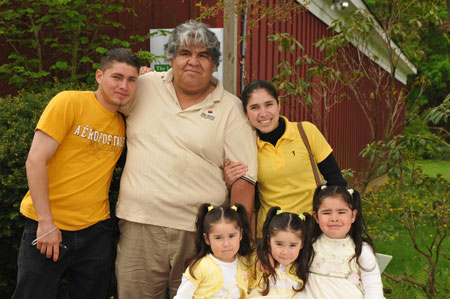 Figure 2: Santos Hernandez (center back) and Sinia Miranda (right back) and their family, from El Salvador and now living in Bay Shore, taken at the Long Island Museum, 2008. Photograph by Richard Podlesney.
As the sun rose over Montauk the Saturday before Memorial Day, 29 May 1976, patrons of Gurney's Inn slept blissfully unaware of the fate facing people that had, just yesterday, carried their bags, cleaned their rooms, and served them umbrella drinks by the pool. At 6:05 A.M., nearly thirty INS agents descended on the popular East End resort in unmarked cars and from a Coast Guard helicopter that landed two hundred yards down the beach. The agents burst into the ramshackle basement living quarters, kicked down two doors, and rounded up eleven men and six women suspected of being illegal aliens. The workers were from Uruguay, Ecuador, Costa Rica, Colombia, Trinidad and Tobago, and Argentina, ranged in age from seventeen to sixty-four, and had, in a few cases, found many years of employment working for the inn's owner, who told reporters he thought they had been legitimate because they all had Social Security cards. Mayela Barrientos, from Costa Rica, had worked at Gurney's for seven years, making $46.60 a week plus tips as a waitress. Most of the other immigrants, including busboys, porters, housekeepers, maids, and dishwashers, made substantially less, some as little as 97¢ an hour. Their existence and whereabouts had been confirmed by an undercover agent who had been working at Gurney's as a dishwasher. Indeed, this was not the first time the inn had experienced immigration raids, though none this large. After the early dawn raid, the workers were driven to Manhattan for processing and then later to Brooklyn, where they awaited deportation at a detention facility. Life at Gurney's quickly went back to normal, although the manager, who had had several previous run-ins with INS, was chastened. "They were always gentlemen," he said. "Today, no way. They came in like gang busters."[1]
A Newsday poll that ran the very next day listed twelve issues of political importance for Long Islanders. Immigration was not mentioned. In the wake of Watergate and the OPEC Oil Crisis, respondents had a much different set of priorities: "trust in government leaders" ranked at number three, behind unemployment, and inflation. At the bicentennial, the United States seemed to be facing a very different world order that would alter the terrain of local suburban politics in Nassau and Suffolk counties. But immigration did not register on the popular level as one of those global issues that would have a local dimension, at least not yet. In the 1970s, the region was only just beginning to go through a fundamental demographic and social transformation which would reshape every single community, inside and out.[2]
Table 1: U.S. Census Statistics, Nassau-Suffolk Counties, 2000
| | | |
| --- | --- | --- |
| | Suffolk County | Nassau County |
| White | 1,200,755 | 1,334,544 |
| Black | 98,553 | 134,673 |
| Asian | 34,711 | 63,140 |
| Hispanic | 149,411 | 133,282 |
| Total | 1,419,369 | 1,334,544 |
Table 2: Nassau-Suffolk Counties (Combined), Ethnic and Racial Heritage, 2000
| | | | |
| --- | --- | --- | --- |
| Southern Asian | 39,637 | Mexican | 13,528 |
| Asian Indian | 34,333 | Puerto Rican | 74,796 |
| Pakistani | 4,596 | Dominican | 21,071 |
| Southeastern Asian | 13,634 | Central American | 60,915 |
| Filipino | 10,766 | Salvadoran | 42,500 |
| Vietnamese | 1,835 | Guatemalan | 6,400 |
| Eastern Asian | 41,859 | Honduran | 5,967 |
| Chinese* | 25,287 | Total Hispanic | 282,693 |
| Korean | 12,548 | | |
| Total Asian | 97,393 | | |
*Does not include Taiwanese
In the decades following the crackdown at Gurney's, Long Island has experienced an immigration influx that has changed what our children learn at school, the foods we eat, and the politics we passionately discuss.[3] One need not scrutinize the census figures. Spotting immigration trends around Long Island is as easy as walking, driving, or dining. Some fifty languages can be heard in the hallways of Sewanhaka High School, Afghan cuisine can be sampled at two restaurants east of Queens, and shoppers at Macy's at the South Shore Mall in Bay Shore are reminded of the closing time in both English and Spanish. And then there are also the lines of young men gathered outside a 7-Eleven at the corner of Horseblock and Blue Point Roads in Farmingville, waiting to be hired as day laborers. Looking beyond the visible and palpable changes of everyday life, the arrival of new immigrants on Long Island has been especially vital to the region's transition to a post-defense industrial economy in the past two decades. The attraction of immigrants to the region who have worked at all rungs of the regional economic ladder, from entrepreneurial ventures to unskilled physical labor, has helped close the gap on departures. In the wake of Grumman's closing and as Long Island's population lost both young professionals and retirees who left for the Sun Belt, waves of newcomers from diverse and distant reaches of the globe helped to revitalize the area.[4]
Unfortunately, local media coverage and popular opinion has tended to dwell more on one particular element of the story: illegal immigration. The controversy over a large informal economy of off-the-books and largely Latino housecleaners, groundskeepers, and day laborers has captivated both local and national press attention for much of the past decade-and-a-half. And there's a tendency to see Long Island's current immigration "crisis" as unprecedented and unrelated to earlier waves of foreign migration. However, the debate over day laborers has rarely been approached in long-term historical context, nor has it been placed within the discussion of larger immigration changes. This article aims to do just that.
Taking a long lens survey of Long Island's recent immigrant past, from the days that immigrants came through Castle Garden to their entry at J.F.K. International Airport[5], dramatically changes the terms of the discussion. It provides evidence that Long Island has long relied on underground economies dependent upon cheap, seemingly replenishable immigrant labor. It makes the "sudden" arrivals of the past several decades seem less sudden and more identifiable within a pattern of long-range historical change. And it reveals that much of the collective memory about immigration among Long Island's post-ethnic white residents is refracted through a prism of nostalgic Ellis Island mythology. Those "outlaws standing on street corners," as one polemical source called them a few years ago, are often leaving turbulent political and economic environments to come here, and their experiences of struggle, innovation, achievement, loneliness, alienation, and sacrifice are indeed all part of what immigration historian Oscar Handlin once called the experiences of "the uprooted."[6]
Ellis Island to Long Island
"Illegal immigrant" or "undocumented alien" was a concept unknown on Long Island or indeed the entire East Coast on the eve of Ellis Island's opening. While the Chinese Exclusion Act of 1882 prevented many East Asians, not just Chinese immigrants, from obtaining citizenship, European immigrants that entered New York Harbor had relatively high rates of success in obtaining fast-track citizenship. As long as one did not have a characteristic or existing ailment the gate inspectors found damnable, they were free to take up residence after being scrutinized. An estimated eighty percent of the twelve million immigrants who came through Ellis Island between 1892 and 1924 passed through in a matter of hours.[7] Until the 1920s, numerical limits on European immigration were non-existent. Immigrant visas or special papers were not required. Newcomers could be excluded by being a criminal, a prostitute, having the wrong political views, or by being physically or mentally ill, as well as those "likely to become a public charge."[8] The relatively lenient system changed through a series of tightening restrictions that began in 1917, during World War I, and culminated with the passage of the 1924 Johnson-Reed Act. The latter act introduced the illegal immigrant as a new and special category of people and set numerical ceilings on immigration, privileging northern and western Europeans while greatly restricting southern and eastern Europeans and Asians.[9]
On Long Island, the 1924 law's advent had a number of important impacts. On a positive note, the Ku Klux Klan lost one of its most treasured recruiting tools: as less foreign-born immigrants arrived in the latter part of the 1920s, Klan membership began to drop off precipitously. At the same time, enforcement soon became a significant issue for many local municipalities. In Huntington in the fall of 1933, three men were arrested for various charges and later deported after proving unable to prove their citizenship. In Northport, immigration officers picked up Gregario Salas, who had been working aboard the Trans-Atlantic S.S. Cristobal. The next day, they came for his brother, Miguel, who lived at the same address on Scudder Avenue. Soon after that, Russian immigrant Joseph Patrick was arrested for petty larceny after stealing several bags of potatoes from his employer in Greenlawn. He pled guilty and was about to get a thirty-day sentence when a police officer came forward to advise that Patrick had failed to become a citizen after twenty years of residence in the United States. "Immigration authorities were looking for just that type of man for deportation," wrote the local reporter.[10]

Figure 3: Italian family, Roslyn, c. 1900. Nassau County Museum, the Sammis Collection.
Most of the region's foreign-born populations, however, had the requisite paperwork that put them on the path towards citizenship and had been gradually settling into communities for several decades and were making an enormous impact in the labor force and cultural character of many Long Island locales. The newcomers included Polish immigrants, who came primarily to Riverhead and Port Washington, Scandinavian immigrants, who arrived in St. James and Smithtown, German immigrants that forged new communities in Kings Point and Breslau (which later became Lindenhurst)[11], and a new influx of Dutch migrants involved in the oyster trade on the Great South Bay and living around the Sayville and Oakdale area. But by far, the largest numbers of new immigrants to the island were Italians and Russian Jews. By 1930, Italian immigrants had flourishing populations in Port Washington, Glen Cove, Patchogue, and many smaller, recently formed neighborhoods, like San Remo, on Riviera Drive in Kings Park, or Marconiville, a small ethnic enclave in Copiague.[12] Making their entry to Long Island in the 1880s, Italians had initially found work as landscapers on Gold Coast estates, in the sand mines of the North Shore, extending the lines of the Long Island Rail Road, and even had a major hand in building Belmont Race Track. Writer Pietro Di Donato, a long-time resident of Setauket, gave a colorful description of their early entry to Long Island's economy, in a 1971 article:
Italians came to 'Longa-Eye' estates as cooks and gardeners, and as master stone carvers, masons and marble setters for the castles of the tycoons. They came on outings to la campagna by horse and wagon, the L.I.R.R. and Model T peddlers' trucks to hunt the magic mushroom, pick dandelion, poke weed and wild grape, and to dig clams and mussels and conch and fish and spear the darling eel.[13]
In 1900, more than thirty percent of Italians living in Nassau County were listed on the census as day laborers. Within a few decades of their arrival, a fair number were also making an entrance into small businesses, owning fifty-two percent of Nassau County's fruit and vegetable markets by the mid-1920s.[14]

Figure 4: Rivka and Hyman Goldberg and family, Riverhead, c. 1890. The Long Island Museum Collection, Gift of Lisa Grayson.
Likewise, by the mid-1880s, Russian Jewish immigrants had been joining earlier small populations of German Jews in Jericho, Lynbrook, Hempstead, Setauket, and Sag Harbor, home to Tifereth Israel, Long Island's oldest synagogue.[15] Some pushed peddler carts across the East End, others held industrial jobs in plants such as the Setauket Rubber Factory, while a few owned dry goods stores, shoe repair shops, and other small businesses. Starting a pattern that would continue to this very day for new immigrants, Jewish newcomers to Long Island looked to New York City for sustenance, maintaining family and religious ties to Manhattan and Brooklyn (for example, something as specific as taking the Long Island Rail Road in to purchase kosher meat). Indeed, most of these immigrants followed a typical settlement trail: from Ellis Island steerage, to the Lower East Side, to a brief residence at one of the outer boroughs, to a final destination in Nassau or Suffolk (and this, too, resonates with the way that many immigrants migrate eastward to Long Island in recent decades after previous stops in New York, the difference being that far more now come directly to the suburbs). The family of Samuel Schackman, for example, were Russian Jews that escaped the pogroms to emigrate to Manhattan, then moved to Brooklyn, where they became naturalized United States citizens, and finally moved out to Riverhead in 1927. There, the family opened two businesses on Main Street, selling both shoes and officially authorized Prohibition-era alcohol.[16]
Despite the substantial inroads, both Italians and Russian Jews faced residential, occupational, and social discrimination that went well beyond the cross burnings and symbolic abuse of the Klan. There were tremendous and long-standing neighborhood restrictions, both de facto and explicitly barring them from living in dozens of communities, as indicated by a broadside for a new development in Woodhaven, Queens, in 1917, that stated in not-so-fine print at the bottom: "Italians Excluded".[17] Anti-Semitism formed a formidable residential barrier in many Nassau County communities, with Great Neck, the home to several prominent 1920s Jewish entertainers like Groucho Marx and Eddie Cantor, an important exception. A burgeoning population of middle-class Jews were denied the perquisites of social status that went along with their higher incomes: golf and country clubs, resorts, and many hotels refused their admittance in many parts of the island. A few zoning ordinances were even invoked to block the construction of synagogues in several Long Island communities. Italians, too, felt a stinging social stigma: in Westbury, the local chapter of the Knights of Columbus refused to rent its hall to the local Italian immigrant Dell Assunta Society.[18] Laura Jean Verni, whose father moved the family to Baldwin in the 1920s to run a grocery store, remembered terrible abuse from her classmates in school: "they used to call me all kinds of names, little 'Guinea wop,' and all those terrible names." It didn't help that she encountered great difficulties in school: "I was in kindergarten for three years it was very hard for me to learn English."[19] Likewise, Samuel Golden remembered the virtual shtetl that formed in East Setauket near the rubber factories and the unwritten boundary that existed between Jews and the local Christian population at the Methodist Church: "if you [Jewish children] stepped over [the line at the church] you had to fight".[20]
Today, the children, grandchildren, and great-grandchildren of Italian and Jewish immigrants who struggled through these hardships, as well as those far greater numbers who left New York City for Long Island during the high tide of suburban development, are an enormous, if slowly declining percentage of the overall population. Nassau County is nearly twenty-five percent Italian American and approximately fifteen percent Jewish, despite large numbers of retirees who have left the region for the Sunbelt.[21] In the wake of their enormous political, social, and economic success on Long Island over the past fifty years, our collective memory rarely acknowledges the daily abuse these groups once suffered, nor the fact that a quick check of enumerated census rolls in many immigrant neighborhoods reveals that English was not the household's spoken language in the first several decades of the 1900s. There are clear similarities between the large tide of Ellis Island immigrants and those of today but this is often papered over by paeans to hard work and climbing the social ladder to achieve the American dream. Many grandchildren and great-grandchildren of the original "new immigrants" draw unfavorable comparisons with today's newcomers:
Groups of 30 men or more are allowed to loiter all day long [outside 7-11] and the police are afraid to do anything because someone will cry 'racism'. When my grandfather came to America from Sweden in the 1920s he, and thousands of other immigrants, wanted to make a life, not a living. He was so proud to be an American that he changed our name…and he learned to speak English. And I'm quite sure he did not seek employment with Swedish flags covering his automobile.[22]
Indeed, there are some very important distinctions, but not the ones expressed by the above letter writer: many more immigrants come to suburban Long Island directly today than at the start of the twentieth century. For those that didn't come directly, there was a longer period of acculturation as well as a sense of relief from the stifling crowds of the city when these immigrants finally arrived into what they called "the country," local farmlands in the 1920s and 30s.
Opening the Door
The changes that came to national immigration legislation in the 1950s and 1960s would lay the groundwork for Long Island's recent demographic shifts. In 1952, the Cold War-inspired McCarran-Walter Act, while continuing the national origins quota system that privileged immigrants to the United States from Europe, opened the door just a crack wider for Asians and Latin Americans. Immigrants from the Western Hemisphere – including all Latin Americans – were not included in the quotas. And while the new law allowed only 2,000 visas a year for the entire Asia-Pacific Triangle, it removed the bar for most Asians to obtain citizenship. At the same time, McCarran-Walter increased the government's contradictory stance on illegal immigration: on the one hand, deportation was made easier and border patrols were increased; on the other hand, the "Texas proviso" of the new law stated that the employment of illegal immigrants, "including the usual and normal practices incident to employment" was not to be considered harboring.[23] As a result, for decades, Long Island farmers would not need to worry about being prosecuted for hiring illegal migrant farm workers.
The much larger, more direct impact came from the 1965 Immigration Act, also known as the Hart-Cellar Reform Act. The new law was signed by President Lyndon Baines Johnson in a ceremony at New York Harbor on October 3, 1965, with the then-deteriorating buildings of Ellis Island in the background. The normally prescient L. B. J. was surprisingly off-target in his predictions of the law's future impact, saying that it was "not a revolutionary bill. It does not affect the lives of millions. It will not reshape the structure of our daily lives, or really add importantly to our wealth or our power".[24] The president believed the most immediate impact would be the relief provided for Cuban refugees, a suggestion supported by a Newsday editorial cartoon which illustrated Cuban refugees queued behind a suburban-style welcome mat at the foot of lady liberty.[25] Johnson also echoed what policymakers had stressed during the debate over legislation in Congress. Observers – even including Latino and Asian ethnic organizations, like the Japanese American Citizens League – predicted that, after Cuba, most new immigrants would come to the United States from Southern and Eastern Europe. But the new law abandoned the concept of stringent national quotas, substituting instead overall hemispheric limits on visas to 170,000 for the Eastern Hemisphere and 120,000 for the Western Hemisphere. Also crucial was the law's emphasis on family reunification: it exempted immediate relatives of United States citizens from both preference requirements and national limits. More than forty years later, family connections remain the largest method of obtaining visas to the US.[26]
It is hard to gauge the Long Island public's immediate response to this significant new legislation; letters to the editor in Newsday, in the weeks before and after the law was signed, were mixed. One woman, writing from Manhasset, complained that Congressman Lester Wolff's support of the bill was not representative of the feelings of his North Shore Nassau County constituents:
Major polls in the country, as well as one taken by the L.I. Federation of Women's Clubs here on Long Island, show the American people as strongly opposed to unlimited immigration (and) to open immigration from Latin America Mr. Wolff's voting record in the last few months has helped bring full-scale socialism closer to all of us in the next few years.[27]
In response to this letter, a Great Neck resident who identified himself as belonging to the American Council for Judaism Philanthropic Fund, argued that the new measures were careful and prudent, not "unlimited," but rather, acting on "American principles" by redressing the wrongs of previous legislation which had severe quota restrictions on Italians and Eastern European Jews, making them "less desirable as citizens than Englishman or Germans…As a member of Mr. Wolff's constituency, I heartily applaud the position he has taken in this matter."[28]
Indeed, a small wave of new Italian immigrants did come to Long Island in the 1970s, as did refugee Jews fleeing Soviet-bloc nations. Other groups who had come in large numbers to Long Island previously, such as Poles, arrived in replenishing numbers to Riverhead and Port Washington. Iranian Jews, fleeing after the fall of the Shah in Iran and the rise of a fundamentalist Muslim government, came to Great Neck in the late 1970s. However, it was the arrival of other, much larger new Asian and Latino immigrant groups that brought increased diversification of Long Island's population, economic and social revitalization of older neighborhoods, and simmering new tensions.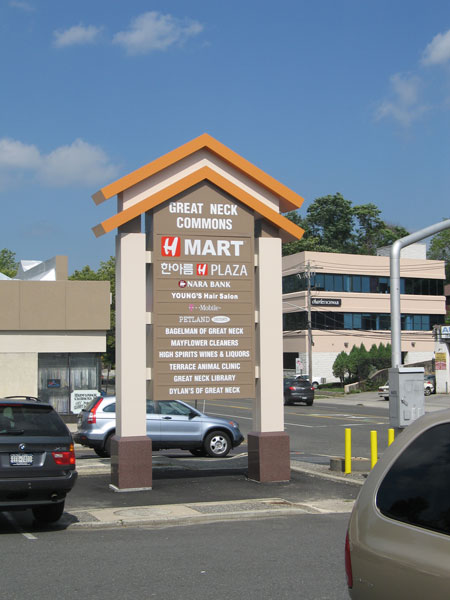 Figure 5: H-Mart Korean Supermarket, near the corner of Great Neck Road and Northern Boulevard, Great Neck. Photograph by the author.
Very small, scattered numbers of Asian Americans lived on Long Island prior to the mid-1970s. Like an ocean wave rippling outward from its origins, most Asian immigrants flowed to Nassau-Suffolk out of initial arrivals to New York City. In the wake of Hart-Cellar, an exodus of new Chinese immigrants swelled Chinatown's population and boundaries in Manhattan. As work opportunities became more competitive in the city, some of these new immigrants began getting picked up by car at the corner of Elizabeth and Bayard Streets to be driven out to work at Chinese restaurants on Long Island.[29] Simultaneously, groups of Asian Indians and Koreans began arriving in large numbers in both Manhattan and Queens, particularly in Flushing. According to some oral accounts, the original Korean community in Flushing arrived in part because of a group of immigrants that had represented the South Korean trade exhibition at the 1964 World's Fair in Flushing decided to move there and were soon joined by relatives and friends.[30] The number 7 subway train, which travels from Times Square to Long Island City, Sunnyside, Elmhurst, Jackson Heights, and Flushing, soon acquired the nickname the "Orient Express," featuring a multiethnic patronage well captured by Syosset-resident (and Cuban immigrant) artist Esteban Najarro, in his painting Ride on a Flushing Train (this subway line was also infamously referred to in bigoted remarks by Major League baseball pitcher John Rocker in 2000, who compared it to riding through Beirut and stated "the biggest thing I don't like about New York are the foreigners"). But soon, many of these newcomers traded their subway tokens for Long Island Railroad tickets.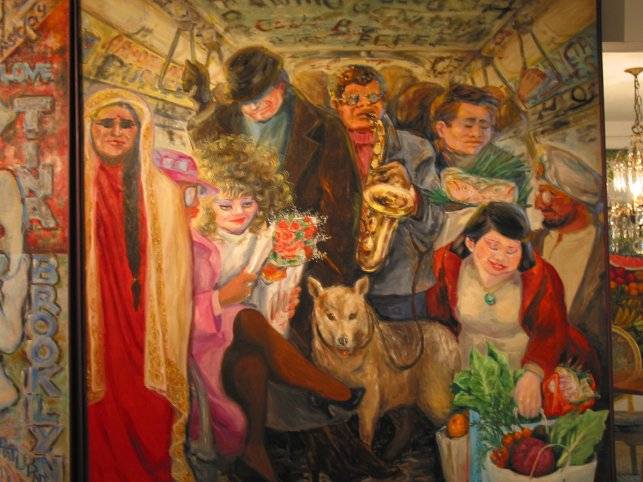 Figure 6: Ride on a Flushing Train, 1985. Oil on canvas. Esteban Najarro, Syosset. Courtesy of the artist.
As these groups residing in Queens began quickly ascending the social ladder, they began working their way eastward into suburbia. An estimated 1,500 Asian Indian families moved to Long Island between 1975 and 1985, many of them professionally trained people, including doctors and engineers. Their numbers were largest in Elmont, Hicksville, and East Meadow, but with more affluence than other ethnic groups, they were able to disperse into a very wide range of communities, including some of the leafier groves of Nassau, such as Mill Neck and Muttontown.[31] Asian Indians, whose ranks included Sikhs, Hindus, Muslims, and Christians, were followed in number on Long Island by Chinese and Koreans, but Asians included some 16 different census groups in all.
Long Island's Recent Latino History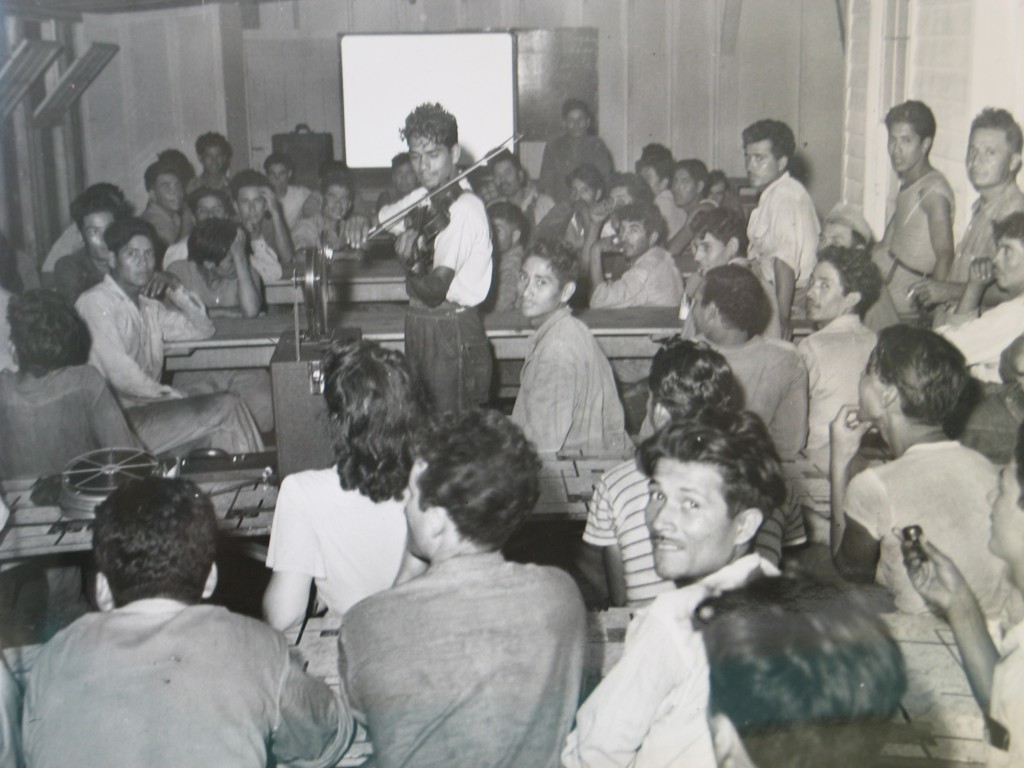 Figure 7: Migrant Camp, Cutchogue, September 1947. Courtesy of the Charles H. Meredith Collection, Southold Historical Society.
Puerto Ricans were Long Island's pioneering Latino community, initially arriving in several waves in the late 1940s. As United States citizens since the Jones Act of 1917, Puerto Ricans are not technically immigrants. However, their entry and settlement in the region helped lay an infrastructure of Spanish-language businesses and Latino neighborhoods that made subsequent emigrations here possible. In the wake of economic disruptions in San Juan in the 1940s, the first Puerto Rican airlifts arrived at local airports, including Newark, Teterboro, and La Guardia. Migrants paid between $30 and $50 for the trip north, coming primarily for work opportunities.[32] From 1947 through 1949, an average net migration of 32,000 Puerto Ricans per year arrived in the greater New York Metropolitan area.[33] In the summer of 1948, nearly 100 made their way to Long Island as migrant farm workers, as part of a pilot program coordinated by the Suffolk Farm Bureau. These workers flew in to MacArthur Airport and then scattered out to various area farms for potato harvesting operations, making $6 per 10-hour day. Although they held United States citizenship, they were treated as an exotic novelty in newspaper coverage:"the dark-skinned, Spanish-speaking workers, who are United States citizens, are being recruited from the farms and in the small villages of Puerto Rico…They are young men, for the most part, somewhat small of stature, but strong and enured to hard work in hot weather".[34] Over the next 20 years, Puerto Ricans became one of the largest contingencies of the island's migrant farm labor, along with African Americans and Polish immigrants.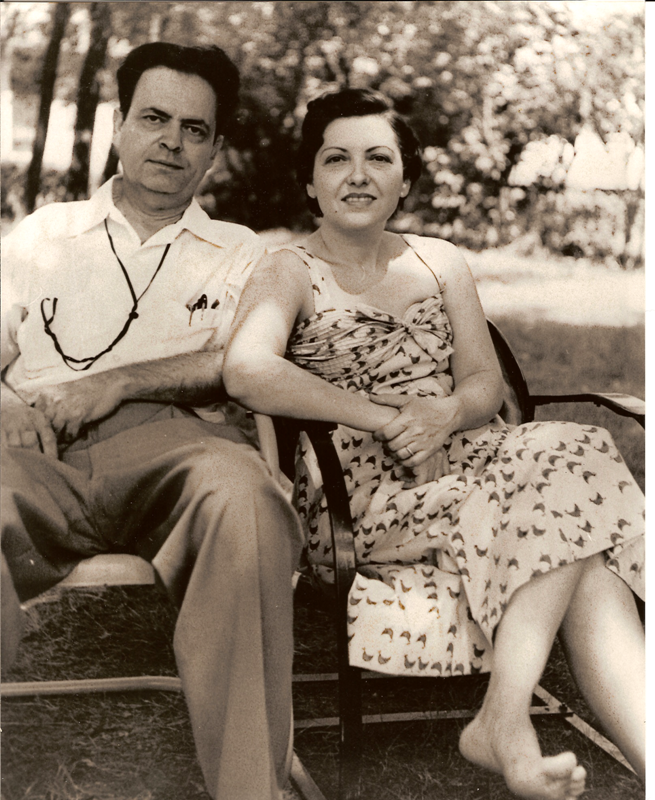 Figure 8: Dr. J. Robert Aguayo and Aida Aguayo, c. 1955, Brentwood. Courtesy of their son, Robert Aguayo.
Simultaneously, a larger group made their way out to Brentwood, planting roots in what would later become the second-largest (behind New York City) Puerto Rican population in the entire state. In 1947, one of the city's Spanish-language daily newspapers advertised a small number of lots that could be purchased in Brentwood, Bay Shore, and Central Islip, for $150. Early residents lived in tents and tar-papered shacks while their houses were being built. Elizabeth Guanill, whose family moved into one of the early lots, later recalled primitive conditions: "There was no running water, no lights and on Saturdays you would see all the families coming to a small lake in the quarry to take a bath. It was really rustic".[35] In the early years, work could be found in construction and on local farms; by the 1960s, more jobs opened up at Entemann's Bakery and Pilgrim State Hospital. Eventually the "Brentwood Barrio" flourished and residents grew to own many local small businesses along Fifth Avenue, earning a median family income that doubled that of Puerto Ricans living in New York City. But the success was not without controversy nor misunderstanding from long-time native Long Islanders. "This is the United States, not Puerto Rico, not Cuba," said one local businessman to a reporter, in a refrain that sounds very familiar to modern ears. "Why don't they just join the U.S.? Half these kids don't even speak English".[36] While most Puerto Ricans tended to congregate together in certain neighborhoods in both Nassau and Suffolk, a few filtered out into more universally white communities, such as Levittown. The Arroyo family was one of two Puerto Rican families who came to Levittown in the late 1950s. While they were able to live in the community, they faced enormous harassment and racism in both their neighborhood and school. "Not a day went by when we weren't called 'spics,'" recalls Nancy Arroyo, the eldest daughter of five children. "The people next door even taught their three- and four-year-old grandchildren to say racial slurs. The neighbors on the other side would throw dirt into my mother's kitchen when she left the kitchen door open for fresh air."[37]
It was the establishment of sizeable Puerto Rican communities in Brentwood and also around Hempstead that would serve as an inducement to new Latino immigrants, including Haitians, Dominicans, and Columbians, in the wake of the Hart-Cellar Immigration Act of 1965. A sizeable number of Cubans also arrived in the 1960s and 1970s, following the United States' action to break off diplomatic relations with Cuba in 1961 and the refugee airlifts, known as "Freedom Flights".[38] These newcomers were not necessarily welcomed with open arms by the long-time Puerto Rican residents, who were now comfortably ensconced in a suburban lifestyle and trying hard to forget their own struggles to climb the social ladder in decades previous. However, it was the arrival of immigrants from El Salvador, fleeing a brutal civil war (1979-1992), that would touch off a much broader, more vocal and painful controversy over immigration across Long Island.
There were several migratory networks established in the late 1970s and the early 1980s that made the Salvadoran connection to Long Island possible. One was started by Don Miguel Yanes, who was the original newcomer that began a connection between Yanes's native town of Concepción de Oriente and Westbury. Later referred to by local Salvadorans as "the godfather," Yanes estimated by his own count to have been followed by possibly a thousand of his townspeople to Westbury. Most Salvadorans, however, came to Long Island through the connections of friends or family.[39] The Central American Refugee Center (CARECEN), which began on Long Island to help serve the growing tide of Salvadorans, estimated that by the early 1990s, the region's Salvadoran population had grown to an estimated 90,000, more than four-fold the number counted by the census. That many of these immigrants were illegal or undocumented, and fear of being found out by the "Migra" (INS) was an article of faith that kept their official numbers low. Most were male and between the ages of 20 and 35, separated from their spouses and immediate families, and finding jobs working in Long Island's landscaping, construction, and other day laborer employments.[40]
The primary impetus driving many Salvadorans to Long Island in the 1980s was their nation's brutal civil war. Such was the case for Yolanda Figueroa, who fled El Salvador in May of 1981, fearing for her life after witnessing a political assassination. A sister who was living in the United States had called to wish her a happy birthday and couldn't understand why Yolanda had let the phone ring so many times.
She said, "what took you so long?" I had to crawl to the phone because there were soldiers all over outside it was chaos. So I had to crawl on my elbows to get to the phone…And then she heard the automatic machine gun fire (outside in the background). They were shooting from our driveway.[41]
Working from a distance, Yolanda's panicked sister and brother managed to secure a Visa for her and her sister at the consulate, to come to the United States. As with many immigrant travails, however, the journey was bittersweet and fraught with sacrifice; Yolanda was forced to leave behind an advanced degree in accounting and years of training to become a C. P. A., following her brother and other family members to live in Nassau County, struggling with low-wage work. Eventually, after years as a housecleaner working and living near Uniondale, Yolanda married an American, went back to school, and became a paralegal for the Suffolk County branch of the Central American Refugee Center.[42]
"We were lucky," she now says, understanding that many other Salvadorans faced tremendous legal hurdles and the refusal of the United States to grant them political asylum and a legally sanctioned status. One Salvadoran, given the pseudonym "Maria" for a New York Times story, came from a military family in El Salvador and fled to the United States after a group of guerrillas came to her home and threatened to rape her and her sisters; another refugee, "Roberto," witnessed a neighbor get shot in the street and spent a harrowing 15 days riding buses before making it to Long Island, where he eventually took sanctuary at St. Brigid's Catholic Church, in Westbury. Catholic Charities on Long Island took up the cause of Maria and close to 1,000 others like her, but found no sympathy from federal immigration officers receiving pressure from the Reagan administration.[43] The official position insisted that Salvadorans were here for economic reasons and were ineligible for political refugee status. In the summer of 1986, INS raided two Long Island factories, arresting 47 workers as illegal aliens. All but 3 were from El Salvador. The owner of one of those factories, Arthur Strutgatz, who ran Austin Productions in Holbrook, maker of home furnishings, posted the bond to release his workers. "We were set up as an example to others," claimed Strutgatz.[44]
Throughout the 1980s, the Central American Refugee Center, in Hempstead and Brentwood, provided free legal defense for some 300 to 400 Salvadorans seeking asylum per year. CARECEN also offered immigrants a 7-week course on immigration and civil rights, and advocated on their behalf in numerous community controversies. In the summer of 1989, for example, the Town of Islip began refusing to grant marriage licenses to Salvadoran refugees, acting by instruction from a New York State memorandum forbidding marriages if the bride or groom were undocumented. Applying pressure, CARECEN's legal staff managed to get the state to revoke the prohibitions.[45] Despite significant efforts on behalf of CARECEN and other organizations, like the Workplace Project of Hempstead, Long Island's general public opinion remained unsympathetic towards this group and increasingly agitated about the employers who were hiring undocumented laborers. Such feelings were echoed nationally.
As a result of increasing national pressure on the federal government to do something more lasting about illegal immigration, the 1986 Immigration Reform and Control Act put pressure on employers and offered asylum to undocumented workers who had resided "in an unlawful status since January 1, 1982".[46] But on Long Island, only 12 immigrants applied for amnesty in nearly a year following the law's enactment, largely due to the physical challenges many faced in having to get the I.N.S. branch office in Queens. This was all despite a growing realization that foreign nationals were working in increasing numbers in restaurants, hotels, and other seasonal occupations. Tony Bullock, then-Town Supervisor of East Hampton said "it's almost like a miniature New World out here," describing the influx of Salvadoran and other Spanish-language-speaking workers on the East End.[47]
In the mid-1990s, the stream of Salvadorans to Long Island's "New World" began to subside somewhat. However, the need for a large, eager, and sometimes underground workforce, ready to be hired to do Long Island's low-wage work, never went away. In fact, the need grew as upper-middle-class housing developments continued their steady march eastward and Long Island's economy rebounded to become robust once more in the wake of the defense industry's decline:
The burgeoning economy of wealthy homeowners in the Hamptons has created a huge labor demand in construction and landscaping, as well as in retail and other services. While some businesses have gone so far as to recruit workers directly from Colombia and Ecuador, others have run morning bus services to poorer communities in western Suffolk to facilitate the commuting of lower-wage, predominantly Hispanic labor that works in the Hamptons but cannot afford to live there.[48]
The largest contingent of Long Island's new working wage class were Mexican by the late 1990s. To cite just one example, Tuxpan, a town in the central-Mexican state of Michoscan, was the source of one of the first Mexican migrants to Long Island, Mario Coria, who came to Bridgehampton as a gardener, in 1977. Coria became a legal permanent resident and some of his brothers and friends eventually followed in the 1980s. But soon, a new group of young men left Tuxpan, a town mired in low wages and decades of problems stemming from agricultural overproduction. Their path to the Hamptons (workers estimate about 500 Tuxpeños now live in the area) typically started by foot in an illegal crossing into Douglas, Arizona, and then eventually, via vans, buses, or other forms of transportation, to arrive here.[49]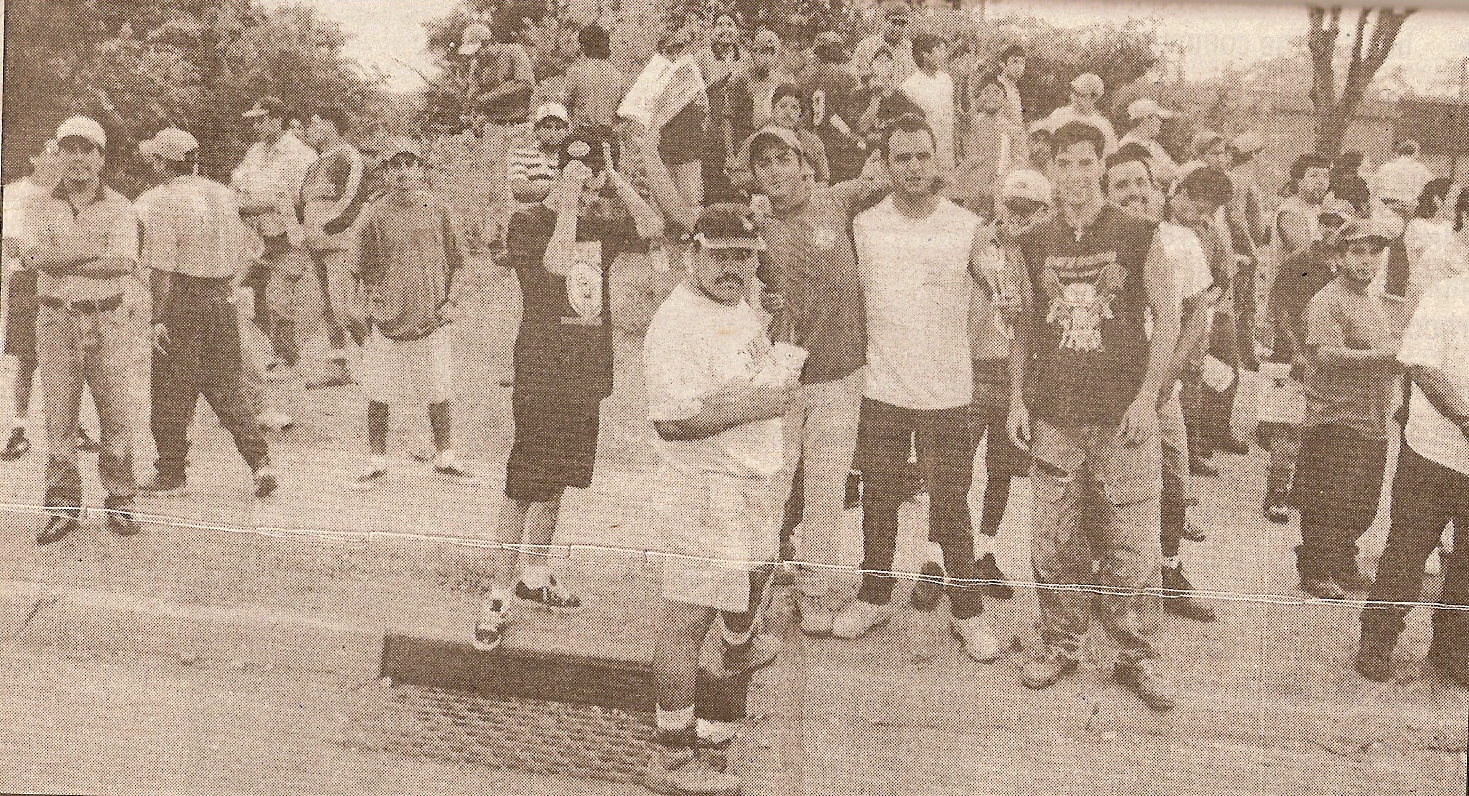 Figure 9: Day laborers at Horseblock Road, Farmingville, 2000. Image from Suffolk Life newspaper. Smithtown Historical Society.
Immigrants from other parts of Mexico, as well as Guatemala, Colombia, Costa Rica, and Honduras, were also among the undocumented arrivals and they were not just making their way to the East End, Brentwood, Hempstead, and other areas with large existing immigrant populations. Their arrivals in communities such as Farmingville, that had little to no previous experience with handling such influxes, was felt seismically and instantly. "It changed a lot, in a very short period of time," stated one of the opening eyewitnesses in the documentary Farmingville (2004), a local white resident. "It wasn't like over the course of 10 or 15 years, it was over the course of a summer. Bang! It was 500 people standing on the corner".[50] Beyond the disturbing immediacy of seeing dozens of men awaiting day labor hiring at street corners, there were other concerns. The visceral reaction many residents had also related to landlord transformations of many houses into virtual tenement dwellings in which 30 or more lived side-by-side. Despite the Town of Brookhaven's efforts to legislate the problem with the 1999 Neighborhood Preservation Act, which set limitations on the numbers of occupants and conditions for house residents, enforcement was problematic. Residents voiced deep concerns over fears of declining property values and the perceived criminal threats large congregations of immigrant men posed. This was not the garden suburban utopia their parents and grandparents had fled to in the 1940s and 50s to escape New York's decaying old immigrant urban neighborhoods.

Figure 10: Farmingville residents protesting hiring hall initiative, Farmingville, 2000. Image from Suffolk Life newspaper. Smithtown Historical Society.
While many of the resident concerns over the safety and aesthetic issues of overcrowding were based in some degrees of legitimacy [51], if unfortunately not always communicated effectively to moderators nor to the immigrants themselves, more adamant and sometimes vitriolic hard-liners threatened to highjack the discussion with their actions. There were numerous incidents of threats, intimidation, and physical violence against the day laborers, only some of which was reported to the police, out of fear of reprisals and consequences with the police and I.N.S. In the summer of 1999, a house where immigrants lived in Farmingville on Cedar Oaks Avenue was the target of a drive-by shooting. Between 10 and 15 shots were fired and no one was arrested. Immigrants complained of being on the receiving end of teenagers throwing rocks and bottles and suffered a constant torrent of verbal abuse. "Sometimes we're walking in the streets and they scream obscenities toward us. They think we don't understand, but we understand," said 25-year-old Mexican immigrant Eric Gallardo.[52] Years of abuse seemed to culminate in the outrageous near-murder of two Mexican workers on September 18, 2000, who were picked up ostensibly for work in Farmingville, driven to an abandoned warehouse just off the Long Island Expressway in Flanders, and attacked by two white supremacists. The workers were beaten with a post-hole digger and stabbed with a knife. The assailants, Christopher Slavin and Ryan Wagner, remain in prison on extended sentences.[53]
Local debates over how to respond to the immigrant day laborer influx were played out not only in Farmingville, but in Huntington, Glen Cove, Freeport, and many other Long Island communities. On the pro-immigrant side of the debate, advocates proposed the erection of "shape-up sites," hiring halls that would get the workers off the streets and into a more controlled contracting atmosphere. Supporters of hiring sites conceded that this was not a comprehensive solution to the problem but that it would be a start to resolving very complex problems. While hiring halls were approved and built in Huntington and Glen Cove, the fight over constructing one in Farmingville became bitterly raucous, some might even say poisonous. The local group Sachem Quality of Life (SQL), which had been long advocating tougher crackdowns on the immigrant workers, tied itself to extremist national organizations and figures like Glenn Spencer of "the American Patrol," who visited and called the laborers "outlaws standing on street corners." Immigrant advocacy groups, including the Workplace Project, CARECEN, and Long Island's Catholic Charities fought back, organizing a candlelight unity rally in Hauppauge that was attended by 2,000 people, and gained the backing of Newsday's editorial page.[54] To read the constant volley of angry letters to the editor, however, as well as to listen to the angry voices on the nightly news, one was left with a distinctly different impression: that of a sizeable voting populace that felt victimized by an overwhelming tide of day laborers that they couldn't reconcile within their own immigrant past.
The movement for the hiring site, initially approved by the Suffolk County Legislature, was stalled after a veto by County Executive Robert Gaffney. The legislature also battled over a measure to punish contractors who would hire undocumented workers. In one particularly overheated moment, Suffolk County Legislator Michael D'Andre, himself the son of Italian immigrants, told a shocked audience, that if his home district Smithtown were "attacked" with illegal immigrants as Farmingville had been, "we'll be up in arms. We'll be out with baseball bats."[55]
Looking Forward?
In the eight years since the events of Farmingville became national news, how far has the discussion advanced, both regionally and nationally? What is the current status of immigration on Long Island and how does it fit into the larger historical picture? In 2003, Suffolk County elected Steve Levy as its County Executive, and the moderate Democrat achieved a plurality in two successive elections by talking and acting tough on illegal immigration. Many have argued that both in deed and in words, the County Executive has helped polarize an already agonizing debate. In one particularly controversial action, Levy led a high-profile crackdown on several overcrowded houses in Farmingville, evicting tenants and calling immigrants-rights advocates who questioned his methods part of a "lunatic fringe."[56] Levy also favored a piece of legislation that would have banned day laborers from attempting to get hired on county roads, a bill nicknamed "Standing While Latino" by its detractors. The bill failed to gain passage but helped secure Levy's overwhelming popular approval rating. And as anger over illegal immigration has continued its traction, yet another tragedy, one worse than the beating of two workers in the fall of 2000: 7 teenagers from Medford, after a night of drinking, attacked and killed Marcelo Lucero, a legal Ecuadorian immigrant, as he was walking home in Patchogue, on November 8, 2008. Exemplifying the immigration amnesia that often lies at the heart of such hate crimes, one of the boys was the son of a Jewish kosher butcher in Plainview.[57]
In the backdrop of these well-publicized local events, the national immigration debate has been marked by false hopes, sharp disagreements, and no resolutions. In 2007, a lame duck president failed to bring the voting public and Congress to an agreement on immigration reform legislation. Opponents argued the new bill would have given amnesty to illegal immigrants. Some even resurrected halcyonic, inaccurate memories of Ellis Island in their suggestions for a new solution. Former Republican state legislator and columnist Matt Towery claims that Ellis Island immigrants had to do more than just "put two feet on American soil before earning their status" and that the government should put prospective new immigrants to work on public building projects, as they decide whom to admit.[58] Not only was this not the way things worked at Ellis Island, it is far from clear that such a "solution" is workable today.
To steal a line from American public servant and intellectual John W. Gardner, "history never looks like history when you are living through it." In recent years, Long Island has remained a destination for immigrants, both legal and not, although the recent economic decline has led to a leveling off of immigration numbers in the past 18 months. It has also meant that immigration has increasingly been falling out of the local headlines as people's concerns revolve around more pressing concerns from the recession. Lilly Donlon, a 15-year resident of Long Island, originally from Medellín, Colombia, who runs a deli with her husband in Babylon, has seen her business decline. "You always have to hope things will come back. But it's tough," she says. At the same time, she gets plenty of respect these days from her working-class customers. "My customers come here, and they're construction, plumbing, landscaping guys. They say immigrants are the hardest-working employees," she says.[59]
In an era of transnational migration and globalization, immigration is now, even more than ever before, a universal human experience. Surveying the history of immigration within the Long Island region provides no easy, neat answers, no usable past, but does shed some light on our current situation. Conflict – and compromise – between newcomers and established residents is a constant theme of generations of experience, but so is the unpredictable and often beneficial recombinant results of the arrivals. Long Island is a far richer place – both economically and culturally – for its generations of immigrants. At a time of declining American fortunes in foreign policy, the environment, the economy, and the suburban model as we know it, immigration will once again need to play a prominent role in this region's recovery.
Notes
[1] "17 on L.I. Are Held As Illegal Aliens: Immigration Officers Raid Gurney's Inn at Montauk," New York Times, 30 May 1976, p. 30; "17 on Inn's Staff Held as Illegal Aliens," Newsday, 30 May 1976, p. 5; "Aliens Arrested at Gurney's," East Hampton Star, 3 June 1976, p. 2. As it was not illegal to hire undocumented workers at the time, the manager, Nick Monte, was not charged. He later defended his low wages in a letter to the editor of the East Hampton Star on 17 June 1976: "readers…will think we have some kind of slave labor camp. The people who earn 97 cents an hour are waiters and waitresses, and this includes room and board." However, he did not address the conditions of the room and board, which were portrayed in the media as substandard.
[2] "Polling Long Island's Concerns," Newsday, 30 May 1976, p. 8.
[3] This article is primarily concerned with Suffolk and Nassau counties. Consideration of Queens County, which census statistics make clear is now the most ethnically diverse county in the entire nation (earning the nickname "the Lower East Side of the twenty-first century"), deserves special consideration of its own. Certainly the tremendous population of immigrants concentrated in Flushing, Bayside, and Douglaston, has been the source for larger numbers of immigrants in the Nassau County villages that adjoin the city boundary line, including Little Neck, Elmont, and New Hyde Park.
[4] Seth Forman, "Who Are We? A Demographic Update for Nassau and Suffolk Counties," Long Island Historical Journal 20, Nos. 1-2 (2008): 222-237. Most recently, between 2000 and 2006, Long Island gained a 1.5% population increase, from 2,753,913 to 2,795,377, with all of the net growth coming from Suffolk County. Nassau County suffered a loss of 67,000 internal migrants while gaining 32,518 from abroad (including both foreigners and U.S. military personnel), resulting in a net loss of nearly 35,000 people. In Suffolk, those numbers were 27,451internal migrants and 29,860 from abroad, resulting in a net gain of 2,409 people. New birth figures added to these totals account for the overall growth of more than 40,000 individuals.
[5] America's central immigration entrepot from 1855 until 1890 was Castle Garden; from 1892 until 1954, Ellis Island held that role. Today, J.F.K. International Airport is the nation's third largest immigration entry point, behind LAX (Los Angeles) and Miami International Airports. However, unlike the Ellis Island era, immigration decisions on who can enter and why are now made long before arrivals at the gate, often originating in the consulates of immigrants' home countries.
[6] Oscar Handlin, The Uprooted (Boston, 1951). Handlin's classic opening to that Pulitzer-prize-winning book: "once I thought to write a history of the immigrants in America. Then I discovered that the immigrants were American history," 1.
[7] Vincent J. Cannato, American Passage: The History of Ellis Island (HarperCollins Publishers: New York, 2009), 5. In the earlier years of Ellis Island, these numbers were even higher.
[8] Nancy Foner, From Ellis Island to JFK (New Haven: Yale University Press, 2000), 16.
[9] Mae M. Ngai, Impossible Subjects: Illegal Aliens and the Making of Modern America (Princeton, NJ: Princeton University Press, 2004), 3-5; Roger Daniels, Guarding the Golden Door: American Immigration Policy and Immigrants Since 1882 (New York: Hill and Wang, 2004), 45-49.
[10] "Immigration Men Seeking to Deport Unwelcome Aliens," Long Islander, 22 September 1933, p. 1.
[11] After buying a large tract of land on Long Island's South Shore, real estate developer Thomas Wellwood began marketing 25-by-100-foot lots to German immigrants living in Manhattan and Queens. He named his village Breslau, after the German city, in 1870. In 1891, the village changed its name to Lindenhurst; it remained an enclave inhabited mainly by German Americans until the 1920s.
[12] "Marconiville" was named after radio pioneer and inventor Guglielmo Marconi, who visited Copiague's Italian community on several different occasions from 1913 to 1917. Marconi was a friend of local real estate developer Giovanni Campagnoli, who used the visits as a marketing tool to sell more houses. See Salvatore LaGumina, From Steerage to Suburb: Long Island Italians, (New York: Center for Migration Studies, 1988), 34-35.
[13] "A Rinascimento on L.I.," New York Times, 14 November 1971, p. A1.
[14] "The Role of Italians in Nassau County, 1900-1945," Mary Jane Capozzoli, in Joann P. Krieg, ed., Evoking a Sense of Place (Hempstead, NY: Hofstra University, Long Island Studies Institute, 1988), 157. The landscaping and construction jobs make for an interesting correlation with today's day laboring population. One of the young Italian landscapers working on a Long Island estate was the eventual movie heartthrob Rudolph Valentino.
[15] Lindenhurst (Breslau) briefly had a synagogue and milkvah (ritual bath), in the 1870s. However, the oldest Jewish community in continuous existence on Long Island was located in Sag Harbor, which began Temple Adas Israel in 1883. See New York Times, 23 November 1975, p. LI 7.
[16] Elaine Schackman Kimpel, telephone conversation with the author, April 2002. The Long Island Museum owns a small collection of photographs and other memorabilia from Ms. Kimpel's Russian Jewish ancestors, including an early ledger from the Tifereth Israel Synagogue in Greenport.
[17] LaGumina, From Steerage to Suburb, 235. This broadside is in the Long Island Collection at the Queens Borough Public Library.
[18] Salvatore LaGumina, "The History of Westbury's Italian American Community," Ethnicity in Suburbia, Salvatore LaGumina, ed., (Garden City, N.Y.: Nassau Community College, 1980), 52.
[19] Laura Jean Verni Maxwell, Ellis Island Oral History Project, interview by Janet Levine, 15 December 1995.
[20] Marc J. Stern, "The Social Utility of Failure: Long Island's Rubber Industry and the Setauket Shtetle, 1876-1911," Long Island Historical Journal 4, No. 1 (Fall 1991): 25-26.
[21] And certain communities have much larger populations of both of these groups. For example, in the early 1980s, Franklin Square was 42.5% Italian American and Deer Park was 41.6%. See LaGumina, From Steerage to Suburb, folio.
[22] "No Loitering Allowed," letter to the editor, Newsday, 29 September, p. A51.
[23] Daniels, Guarding the Golden Door, 118-120.
[24] Ibid., 133-134.
[25] Newsday, 5 October 1965, p. 31.
[26] In 1976, hemispheric limits were abandoned and replaced by a global ceiling of 290,000 visas with caps of 20,000 per nation per year. However, due to the large numbers of immigrants exempted by family status, the numbers of new immigrants coming each year vastly exceeded these limits.
[27] Newsday, 13 September 1965, p. 31.
[28] Newsday, 5 October 1965, p. 30. Lester Wolff (D-NY, 6th District), served for eight terms in the House of Representatives, from 1965 until 1981.
[29] "Unsettled Neighborhoods: Chinatown is Troubled by New Influx," New York Times, 16 June 1970, p. 16.
[30] "Koreans Find New York is a Place of Opportunity," New York Times, 2 October 1979, p. B1; Pyong Gap Min, Caught in the Middle: Korean Communities in New York and Los Angeles (Berkeley, CA: University of California Press, 1996), 37-40.
[31] "Indian Immigrants: Keeping Alive the Old Ways in the New Land," New York Times, 29 June 1986, p. 1; "Ever Farther From Queens," New York Times, 17 March 2002, p. B1.
[32] Virginia E. Sánchez Korrol, From Colonia to Community: the History of Puerto Ricans in New York City (Berkeley, CA: University of California Press, 1983), 28-34, 46.
[33] Ibid., 35.
[34] "54 Puerto Rican Laborers Arrive for Suffolk Harvest," Long Islander, 22 July 1948, p. 21.
[35] "Long Island Puerto Rican Community Thriving," New York Times, 12 November 1972, p. 131.
[36] "Hispanic Enclave on Long Island Fights to Retain Bilingual Education Program," New York Times, 5 September 1977, p. 21.
[37] Rosalyn Baxandall and Elizabeth Ewen, Picture Windows (New York: Basic Books, 2000), 177.
[38] Elaine Anne Pasquali, "Assimilation and Acculturation of Cubans on Long Island," (Ph.D. diss., State University of New York at Stony Brook, 1982). In 1980, there were 2,549 Cubans living in Suffolk County and another 4,143 living in Nassau County, according to the U.S. Census. Pasquali found from 129 informants for her study that Cubans were widely dispersed throughout Long Island and were predominantly middle-class.
[39] Sarah J. Mahler, American Dreaming: Immigrant Life on the Margins (Princeton, NJ: Princeton University Press, 1995), 52-53.
[40] Ibid., 17-20.
[41] Yolanda Figueroa, interview with the author, 27 August 1999.
[42] Ibid.
[43] "Salvadoran Refugees in New York Region Struggle for Asylum," New York Times, 25 July 1983, p. A1; "Wary Salvadorans Find Help on LI," New York Times, 20 November 1983, p. LI 1.
[44] "Immigration Enforcement is Assailed," New York Times, 28 July 1986, p. B4.
[45] Newsletter, CARECEN, Summer 1989, CARECEN Collection, Long Island Studies, Hofstra University.
[46] Daniels, Guarding the Golden Door, 226-228.
[47] "Aliens on the East End," New York Times, 13 March 1988, p. LI16.
[48] Casey Dolgan, The End of the Hamptons, 121.
[49] Nathan Thornburgh, "Inside the Life of the Migrants Next Door," Time, 6 February 2006, Issue 6, p. 34-44.
[50] Farmingville, prod. and dir. Carlos Sandoval and Catherine Tambini, 78 min., Camino Bluff Productions, Inc.and CatTails LLC, 2004. In an early clip, the documentary states that "In the late 1990s, about 1,500 Mexican day laborers moved to Farmingville, NY, population 15,000."
[51] A fire in a Huntington Station house with 33 Salvadoran immigrants resulted in 3 dead and 16 injured, on May 1, 1999.
[52] "A Climate of Fear: Latino Laborers Say They Face Daily Abuse by Residents," Newsday, 26 August, 2000, p. A5.
[53] "Brutal Bias Attack/Cops: Pair Lured Day Laborers to Factory with Idea to Kill," Newsday, 19 September 2000, p. A3. Both Slavin and Wagner received 25-year sentences; Wagner, who was just 19 at the time of the crime, had his sentence reduced to 15 years, with time already served, in 2006.
[54] "Don't Let Anti-Immigrant Zealotry Tarnish All of Long Island," Newsday, 17 October 2000, p. A44.
[55] "I Made a Mistake/D'Andre Issues Apology for Baseball Bat Comment," Newsday, 31 August 2001, p. A2. At a press conference the next day, after being roundly condemned by both Republican and Democratic colleagues, D'Andre read a prepared statement: "It is clear to me that my words demonstrated an unacceptable insensitivity. I made a mistake and I am extremely sorry…I regret any pain or fear that my inappropriate comments may have caused anyone on Long Island and firmly state that no hate group or anti-immigrant group should take or use my remarks as support for their causes."
[56] "A Protest Over Evictions: Undocumented Immigrants, Supporters Say Tenants Need Notice," Newsday, Bart Jones, 27 June 2005, p. A8.
[57] "Kosher Butcher's Son Tied to Patchogue Hate Crime," New York Jewish Week, 21 November 2008, p. 1. Jordan Dasch, 17, called himself a "Nazi Jew" on his MySpace page. His father, Lawrence, was reportedly a butcher at the Kosher Food Emporium on Old Country Road. Cannato, 411-412.
[58] Cannato, 411-412.
[59] Kirk Shinkle, "Anxious America: Babylon, New York; Pocketbook Issues Move Into the Spotlight as Business Slows," U.S. News & World Report, 11 February 2008, v. 144, is. 4, p. 34.